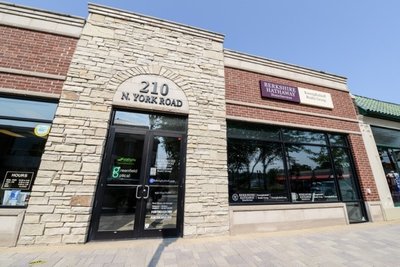 We've written a few times already about our new ability to offer a free pregnancy test in Elmhurst, Illinois. It was exciting to launch our newest free pregnancy clinic and be welcomed into the Elmhurst community! We wanted to give you an update about the clinic.
Our client numbers have grown nicely. We're serving more women each month. But there's plenty of room for more. We haven't yet had a day where our schedule was booked full. That is how we prefer to run our clinics – with minimal wait times and plenty of attention given to each individual client.
Clients have not just been coming from Elmhurst. Women from Melrose Park and Villa Park seem to be finding us very convenient. We've also served women from Maywood, Westchester, Berkeley, Broadview, Hillside, and cities even farther than that.
One aspect we've been very pleased with is the privacy. With the well-paced schedule, and with clients coming from such a wide geographical area, no one has run into an acquaintance in the lobby. We are very sensitive to the need for client confidentiality, and we've been very pleased to have all of our visitors feeling safe and relaxed.
Overwhelmingly, clients are providing positive feedback. Every single review of the Avenue Women's Center clinic in Elmhurst has indicated that they have been "very satisfied and would recommend Avenue Women's Center to a friend." Hooray! Some of our favorite reviews about what our clients liked about the Elmhurst clinic have included:
I loved the conversation and help they provided me with on all levels. I really love everything about Avenue and would recommend
How caring, sweet, and supportive she was. Really made me feel a lot better about the situation.
Everything is free. And they listen to your needs and your beliefs. And they give you great resources about further things
I liked how Avenue was very knowledgeable and caring. I obtained a lot of info and guidance which is what I came here for. Thank you so much for all the info and help!
The friendly environment.
Very helpful experience. Open ears, patient, informative. Thank you, so glad I came.
All the information. All the information was given to me that I needed. Also very helpful. Thank you.
Everything! Awesome staff, very helpful & informational
Nikki was very sweet and caring and made sure that I had everything that I needed.
Very kind, non-judgmental, quick service.
How awesome Lindsay is – She was a great help.
No judgment/very welcoming
While the clients have been very satisfied, we are noticing one possible area of improvement. Our signage is not terrific. To find us, clients park on York St in Elmhurst. Then they need to look for the stone entryway marked #210 York Rd (apparently, some residents call it York Rd, but it is technically called York St). The only Avenue Women's Center signage is on the front of a shared-space glass entry door. After entering, clients need to walk down a hallway before coming to our space. It would be easier to direct visitors if we had a large "Avenue Women's Center" sign out front. In any case, at least our space is private!
Most women who have come to us have benefited from the accurate, free pregnancy test. Many have also appreciated information about options for abortion, abortion pill price, abortion pill side effects, etc. We know that each client has been glad to be heard and respected and helped.
We are truly grateful to be in this community, providing each woman with care. If you or someone you know is need of abortion information or a free pregnancy test in Elmhurst, we hope you will call contact us.
The information provided here is general in nature.  It is not a substitute for a consultation with a medical professional. Before any medical procedure, it is imperative that you discuss your personal medical history, risks, and concerns with your doctor. If you have questions during or after a procedure, your doctor should be immediately contacted. Avenue Women's Center is not an emergency center.  If you are experiencing severe symptoms, such as bleeding and/or pain, seek immediate medical attention.  Contact your physician, go to an emergency room, or call 911.