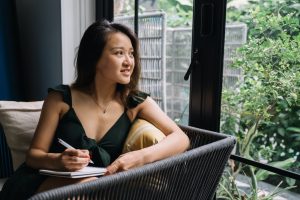 Without a doubt, your pregnancy decision matters.  Are you looking for clarity to move forward with confidence, even though your positive pregnancy result was unexpected?  Finding answers to questions like, "Is my pregnancy healthy?" and "What are my pregnancy options?"  can provide practical insight.  A well-rounded decision-making process also involves asking yourself deeper questions that require self-reflection.  Maybe indecision is causing you to feel stuck.  Or, you're already on track to a particular pregnancy outcome.  Either way, it's wise to consider these 5 questions before choosing your best approach.
Do you need help coping with an unexpected pregnancy, or accessing resources to take your next steps?  Avenue Women's Center can help!  We're a limited medical clinic that offers free, confidential early pregnancy services at six locations in the western Chicago metro area.
Check out the services we offer, and contact us today to learn more!
"How Do I Feel About this Pregnancy?"
It seems like a simple question, but the answer may be very complex.  After a positive pregnancy result, women can feel all kinds of emotions: anxiety, frustration, hope, confusion, shock, and excitement…. just to name a few.  Maybe you're experiencing multiple feelings at once!  Some of these emotions might even seem to contradict one another (like if you're really upset, but also a little excited).  And a lot of women report feeling numb after getting a positive pregnancy result.  Our minds respond very differently to significant, unexpected news.  It's important to identify and process your feelings about this pregnancy.  That may take a little time.  But chances are, you have some time for self-reflection before your options begin to narrow.  It can be hard to know your best path forward when you're still figuring out how you feel in the present.
"How Do I Feel About My Options?"
You have options for this pregnancy (three, in fact): abortion, adoption, and parenting.  It may be beneficial to learn about all three to make a fully informed pregnancy decision.  Once you've completed that step, ask yourself how you feel about each possible avenue.  Acceptance may be an important element of your decision-making process.  Consider asking yourself, "How do I feel about my options, and which one feels right for me, even though the timing isn't what I wanted or expected?"  A good follow-up question might be…
"Why Do I Feel the Way I Do About My Options?"
Let's say, for example, that you feel most drawn to your option of abortion.  Maybe this seems like the best decision for your family's future, or you're afraid you can't afford to continue the pregnancy.   Perhaps the hopes and expectations of others are influencing you.  Understanding what's motivating your pregnancy decision can help you consider your options with purpose, and maybe even clarify your best path forward.
"What Challenges do My Options Present?"
Every pregnancy option comes with potential challenges.  Considering these will prepare you for your pregnancy choice.  However, your decision-making process doesn't end here.  It's critical to avoid discouragement and draw a well-balanced conclusion by asking yourself this fifth and final question- an empowering question that focuses on your unique strengths.
"Which of These Challenges Are Worth Facing, and How Can I Embolden Myself to Face Them?"
Since your pregnancy decision is going to include challenges no matter what, it's vital to ask yourself which challenges you're most willing and ready to handle.  If you feel drawn to a particular pregnancy option, but feel unprepared to face the potential struggles right now, that's okay.  Take stock of your personal strengths and resources to empower yourself for a confident decision.  If your strong points could use some further development, or the resources aren't there, don't give up hope!  Reach out for support.  An early pregnancy center like Avenue can educate you on all available paths, while helping you embrace your strengths and access the resources you need.
The question of whether to choose abortion, adoption, or parenting can be very difficult.  But exploring how you feel about this pregnancy and your options on a deeper level may offer insight and light your way.  Chances are, you've already become (or are in your own process of becoming) a strong, resilient woman.  Leaning on these strengths, rather than fear, is bound to serve you well. 
At Avenue Women's Center, we're passionate about empowering women through education, resources, and caring support.  Reach out today to learn how we partner with women as they navigate the challenges of an unexpected pregnancy.
The information provided here is general in nature.  It is not a substitute for a consultation with a medical professional. Before any medical procedure, it is imperative that you discuss your personal medical history, risks, and concerns with your doctor. If you have questions during or after a procedure, your doctor should be immediately contacted. Avenue Women's Center is not an emergency center.  If you are experiencing severe symptoms, such as bleeding and/or pain, seek immediate medical attention.  Contact your physician, go to an emergency room, or call 911.