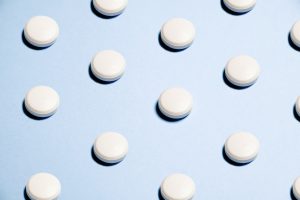 In recent weeks and months, accessing the abortion pill online has exploded in popularity.  According to an article published by WebMD, online searches for the abortion pill increased 162% within three days following the Supreme Court leak.  But even before recent events began to change the legal structure of abortion in the U.S., many women were attracted to the option of buying abortion pills online.  This practice is often advertised as a convenient, discreet, and affordable option for women experiencing an unexpected pregnancy.  However, is accessing the abortion pill online actually safe?  Because your health is so important, this question is worth exploring.
An unexpected pregnancy is often an emotionally difficult experience!  If you're feeling anxious or uncomfortable, you're in good company!  It's understandable that so many women turn to online abortion options, which may seem more private and less intimidating than seeing a doctor in person.  But is purchasing the abortion pill online safe?  It's important to do your research and use caution, especially if there is no medical oversight involved.  If you have questions about the abortion pill or surgical abortion, an early pregnancy service like Avenue Women's Center can offer reliable information before you move forward.
Look into our free and confidential services!
Evaluating Whether or Not Medical Abortion is Safe for You
As with any medical procedure, it's important to talk to a qualified medical professional before beginning the abortion pill process.  Every woman's body is completely unique, and so is every pregnancy.  This means that medical abortion (the process of using medicine to end a pregnancy) isn't safe for everyone.  The abortion pill may not be an appropriate option if:
You're too far along
You have an IUD
You may be experiencing ectopic pregnancy (a pregnancy located outside the uterus)
You have specific medical conditions or allergies
You take certain medications
You don't have access to follow-up appointments or emergency care
This message is worth repeating: If you choose to move forward with the abortion pill, it's important to protect your own health by assessing with a doctor if this is a safe option for you.
Looking Out for Scams
According to pharmacy experts, many of the online clinics that women order the abortion pill from are fake.  An estimated 96% of online pharmacies are regularly breaking the law!  When you order from these sites, you may receive counterfeit or expired pills.  Or, your personal payment information could be taken, with no medications sent to your home.  Illegal activity surrounding the abortion pill has increased following recent events.  That's why speaking with a medical professional and getting a prescription are necessary steps, if you choose to move forward with the abortion pill.
Knowing the Risks
Before moving forward with any medical procedure (including the abortion pill or surgical abortion), understanding the risks is key.  Some risks involved with taking the abortion pill are noted below.  Be sure to discuss this further with your medical professional as you're evaluating whether or not medical abortion is an appropriate option for your unique body.
The abortion may not be fully effective and a surgical procedure may be required.
There's a possibility that the medical abortion won't work. In this situation, the pregnancy might continue with an increased risk of pregnancy complications.
You may experience heavy and persistent bleeding.
You may develop an infection.
You may develop a fever.
You may experience discomfort of the digestive system.
These possible risks further demonstrate why visiting a clinic in person is your safest bet!  It's critical to receive all the medical oversight you need throughout the abortion pill process.
How Can a First-Step Pregnancy Service Help?
You might consider pairing your doctor appointments with a visit to Avenue Women's Center.  We're a first-step pregnancy center with six locations in Chicagoland, Illinois.  We offer free and confidential limited medical services to women going through an unexpected pregnancy.  Avenue provides lab-quality pregnancy tests, limited medical ultrasounds, options consultations, and more!  It's important to confirm that you're pregnant, and to be aware of possible risk factors, before moving forward with any of your pregnancy options (including abortion). Your health and safety are of the utmost importance.
If you're looking into the abortion pill online, let Avenue Women's Center be your first step. We'll equip you with information regarding your pregnancy, your eligibility for the abortion pill, and what the process may entail. Address your individual questions and concerns with an expert pregnancy consultant in a confidential environment.  It's our role at Avenue to equip you for the road ahead through education and caring support. 
Call, text, chat, or email to speak with one of our compassionate team members!  We'd love to hear you story and help you journey on with confidence.
*If you think you may be experiencing a medical emergency, call 911 or visit your nearest emergency room right away.
_______________ 
References:
Reviewed by Patricia Kuenzi, APN-CNP, MSN, ANP, PNP.
The information provided here is general in nature.  It is not a substitute for a consultation with a medical professional. Before any medical procedure, it is imperative that you discuss your personal medical history, risks, and concerns with your doctor. If you have questions during or after a procedure, your doctor should be immediately contacted. Avenue Women's Center is not an emergency center.  If you are experiencing severe symptoms, such as bleeding and/or pain, seek immediate medical attention.  Contact your physician, go to an emergency room, or call 911.