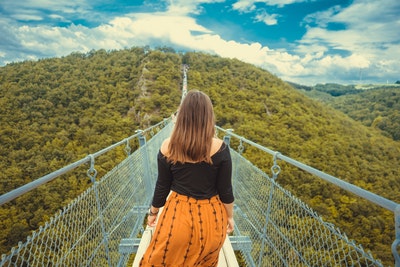 You've made up your mind. Or at least … you think you did. But something inside is gnawing at you, and the certainty you once had starts to fade. Can you change your mind? Sometimes we get second chances in life, while other times we can't go back and undo a choice. Our second thoughts linger and we wonder if we chose what's best. What if you're having second thoughts about taking the abortion pill? Can you undo your decision?
If you're having second thoughts about taking the abortion pill, reach out for help at Avenue Women's Center. Avenue has helped women face pregnancy decisions for over 35 years, and we understand that feelings can change about an initial choice. Learn more about the abortion pill and your abortion alternatives with a free and completely confidential consultation at one of our five locations in the Chicagoland area. Contact us today for an appointment at no cost to you!
Why do we have second thoughts?
Uncertainty can be an overwhelming and powerful feeling. It might begin by gently tugging at your mind until it completely pulls you down into feelings of doubt, panic, and anxiety. These feelings can shift our thinking directly towards second thoughts. Second thoughts are a perfectly natural instinct in the face of an important decision—especially when choosing between continuing a pregnancy or having an abortion. It's a tough choice and not knowing what lies ahead in either path makes it even harder to choose. We often question ourselves from fear of the unknown, wondering what outcome was on the other side—the side we didn't choose. And this self-questioning can amplify if there's adversity along our choice, an unforeseen challenge that pops up and leads us into confusion.
What do second thoughts mean for an abortion decision?
Sometimes our uncertainty stems from deeper emotions about a decision, possibly emotions we didn't know we even had. Maybe you were absolutely certain of your abortion decision when you made it, thinking it was the right choice forward. Or maybe you felt conflicted, but ultimately decided an abortion would be best. You took action towards your decision and took the abortion pill, but things might feel very different now that you're in the middle of it. Did something change in your life situation to make you have second thoughts? What could happen if you chose differently? It can be helpful to take a moment and reexamine the reasons and emotions that led you to take the abortion pill. What are the feelings that resonate with you most? Are there certain feelings that keep coming up? Why might that be? What could happen if you chose differently? Rethinking a choice can sometimes bring clarity about your honest feelings. You can't know what's to come for sure, but you can make a choice that feels true and right for your path ahead in life.
Can you change your mind about the abortion pill?
Whatever led you to have second thoughts about taking the abortion pill, it might not be too late to choose differently. When second thoughts are creeping in, you might find yourself wanting to turn back time and make a different choice. But can you? Is there still time? There might be, depending on how far along in the abortion pill process you are. As the American Pregnancy Association explains, "The abortion pill reversal (or APR) procedure can only occur after the first dose of a medical abortion (Mifepristone/RU-486) is taken orally." Mifepristone blocks the hormone progesterone from absorbing into the uterine lining and thickening it for a pregnancy to continue. Typically with the abortion pill reversal process, a woman is prescribed progesterone in an attempt to counter the effects of Mifepristone. Progesterone can be used safely with a physician's guidance, and there is no evidence associated with it causing harm to a continued pregnancy. Taking progesterone at the first stage in the abortion pill process involves a higher chance of reversal efficacy (55% on average) than simply opting out of the second stage and waiting to see if the pregnancy continues (7–40% efficacy in small studies).* Once the second set of abortion pills are taken (Misoprostol), the process is ineffective.* To learn more about possible abortion pill reversal, check out our informational blog post here.
If you live in the Chicago area and have taken the abortion pill but you're having second thoughts, contact Avenue Women's Center right away. Our expert client advocates take the time to listen to your personal concerns and offer you helpful information about the next steps you can take with abortion alternatives and options. Call, chat, email, or text for more information.
---
References:
Abortion Pill Reversal / Abortion Pill Rescue. (2019). Abortion Pill Reversal. Retrieved from: https://www.abortionpillreversal.com/reversal-process/abortion-pill-reversal.
American Pregnancy Association. (2017, December). Abortion Pill Reversal. Retrieved from: http://americanpregnancy.org/unplanned-pregnancy/abortion-pill-reversal/.
Reviewed by Patricia Kuenzi, APN-CNP, MSN, ANP, PNP.
The information provided here is general in nature.  It is not a substitute for a consultation with a medical professional. Before any medical procedure, it is imperative that you discuss your personal medical history, risks, and concerns with your doctor. If you have questions during or after a procedure, your doctor should be immediately contacted. Avenue Women's Center is not an emergency center.  If you are experiencing severe symptoms, such as bleeding and/or pain, seek immediate medical attention.  Contact your physician, go to an emergency room, or call 911.