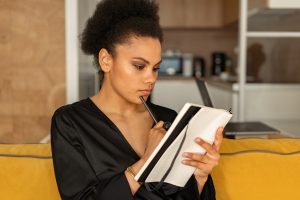 Any mom knows from experience just how expensive parenting can be, whether the pregnancy was expected or not.  If you're a mom, and you've recently discovered that you're pregnant again, you may be coping with significant financial anxiety.  Perhaps you're a single parent already striving to balance your time and expenses.  Maybe your partner is actively involved, but, for whatever reason, you're struggling to make ends meet.  Every woman who reaches out to Avenue Women's Center has a unique financial background.  Each of these courageous women has unique strengths as well!  Now's the time to gather reliable information and lean into these strengths, to make a pregnancy decision that's best for you and your family.
Avenue Women's Center provides free, confidential first-step pregnancy services.  We'll help you feel equipped to take your next steps from an informed and empowered perspective.  Countless families face financial uncertainty during seasons of unexpected pregnancy, so you're not alone!  We're here to offer a compassionate listening ear and information on the many resources in your area.
Schedule an appointment at one of our limited medical clinics in Darien, Elmhurst, Glen Ellyn / Lombard, Naperville, West Chicago, or Wood Dale, Illinois!
Understanding Your Options
Any woman seeking pregnancy services in Illinois has three primary options available to her: abortion, adoption, and parenting.  At Avenue, we highly recommend learning about each of your options before moving forward with a pregnancy decision.  As someone who's already a mom, you may have explored these avenues before, but it never hurts to re-educate yourself and possibly receive fresh insight.  Weighing the risks and benefits of your options during this new pregnancy may look different.  Avenue Women's Center is committed to providing accurate information about all your pregnancy options in a safe, confidential, nonjudgmental environment.  It's very important to us that women feel comfortable asking questions and receiving support as they consider which path to take.
Taking the Time to Make Your Best Choice
Many women experience a sense of urgency as they evaluate their pregnancy options.  Avenue Women's Center is here for you no matter which pregnancy option you choose.  However, we hope you'll take the time you need to feel confident in your decision, even if your financial situation is adding pressure.  Often, women have more time to gather information and process their next steps than they realize.  For those women who are leaning toward ending the pregnancy, the abortion pill is FDA-approved up to 10 weeks into a pregnancy.  Other abortion methods are often available beyond 10 weeks, depending on state laws and each individual clinic.  In addition to answering your questions about abortion and other pregnancy options, an Avenue pregnancy consultant can offer information on practical resources you may be eligible for.  Chances are, you'll feel better equipped to move forward with confidence when you've got the knowledge, free resources, and caring support of others in your tool kit.
When money is tight, it can be especially challenging to navigate an unexpected pregnancy.  Know that your financial situation doesn't have to take control of your pregnancy decision!  It's possible to create a pregnancy plan that works with your life. And Avenue Women's Center is here to help you figure this out one step at a time.  Our free, confidential services include medical-grade pregnancy tests, limited medical ultrasounds, pregnancy consultations, and more!
Call, text, email, or chat to speak with an expert staff member from Avenue and learn how we can help meet your needs!
_______________
Reference:
The U.S. Food and Drug Administration.  (2021, December).  Mifeprex (mifepristone) Information.  Retrieved from: https://www.fda.gov/drugs/postmarket-drug-safety-information-patients-and-providers/mifeprex-mifepristone-information
The information provided here is general in nature.  It is not a substitute for a consultation with a medical professional. Before any medical procedure, it is imperative that you discuss your personal medical history, risks, and concerns with your doctor. If you have questions during or after a procedure, your doctor should be immediately contacted. Avenue Women's Center is not an emergency center.  If you are experiencing severe symptoms, such as bleeding and/or pain, seek immediate medical attention.  Contact your physician, go to an emergency room, or call 911.