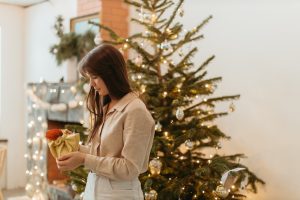 The holiday season is a time to step back from our ordinary lives and take time to honor the things we value most in life.  That's probably what makes this time of year so loveable to so many people.  What aspects of your life are most meaningful to you?  Celebrating with loved ones?  Carrying on traditions, while revisiting heart-warming memories of the past?  Spiritual beliefs?  The holiday season highlights all of these.  But maybe something is casting a shadow of anxiety, anger, or sadness over your holiday experience.  Maybe you're facing an unexpected pregnancy, and it's stealing away your joy this season.
Avenue Women's Center is here for you.  We're a first-step pregnancy center offering free services and caring support to women in Chicagoland, Illinois and beyond!  Avenue has been a trusted resource since 1981. We've navigated over forty holiday seasons alongside women, and we'd love to partner with you too. 
Call, text, email, or chat to learn more about Avenue Women's Center!  We're committed to meeting women's needs with warmth, respect, and the highest standards of professionalism. 
A Few Helpful Tips
Are you going through an unexpected pregnancy right now?  If so, this may not be the first time you've had to cope with difficult emotions during a holiday season.  Perhaps you've lost a loved one in the past.  Grief may be felt more strongly than ever during the holidays, when so much cultural emphasis is placed on celebrating with loved ones.  Chances are, illness has intruded on your holiday plans at some point too.  That's been true for many families over the last few years due to the pandemic!  An unexpected pregnancy represents a different kind of loss, perhaps one that you've never faced before.  But drawing on the coping skills you (and others) have developed in life may encourage and strengthen you this holiday season.  Let's explore a few practical approaches that may shift your focus and brighten your spirits if unexpected circumstances are stealing your joy.
Seek support.
Consider if now would be a good time to confide in someone trustworthy about your pregnancy, or even just the challenging emotions you may be wrestling with.  Remember that support can come from a lot of different sources.  Receiving encouragement from a partner, family member, or close friend can be extremely helpful when navigating an unexpected pregnancy.  But whether or not you're ready to share your pregnancy news with someone you're close to, getting support from someone like a professional counselor, faith leader, or pregnancy consultant can be really beneficial too.  Sometimes it can be helpful to talk with a third party who is not directly involved in your circumstances.
Talk things out.
"Talking things out" may be a part of your support-seeking process, but it deserves a special mention because it can be so helpful.  We all see our circumstances through a negative lens sometimes.  But if you often find yourself alone with bitter thoughts, and aren't finding an outlet for them, feelings of bitterness and isolation will likely grow.  And it'll become increasingly difficult to cope with your unexpected pregnancy or other stressful circumstances.  It's amazing how processing challenging thoughts and emotions within a trusting relationship can offer insight (from within yourself and from the other person) to make sense of your situation and guide your steps.
Find joy in the little things.
When faced with stressful circumstances, it doesn't feel natural to look for beauty and joy in the little things.  It takes some discipline.  But purposefully shifting your focus toward the positive, even if you don't feel like it, really can help you cope more effectively.  Maybe you glimpsed some blue sky on your drive to work this morning, received a compliment from a coworker, achieved a goal you were working toward, or got to hold your beloved pet.  Noticing and savoring moments of sweetness, laughter, and rest can cultivate gratitude and make an enormous impact on your mood.  And these moments can be found in practically any situation, if you're looking for them.
Our expert team at Avenue Women's Center is here to help you cope well and lean into your best pregnancy outcome this holiday season and beyond.  We offer free first-step pregnancy services (like lab-quality pregnancy tests, limited medical ultrasounds, and options consultations) because we're committed to helping women move forward feeling informed and empowered. 
Schedule an appointment today!  Our limited medical clinics are located in Darien, Elmhurst, Glen Ellyn / Lombard, Naperville, West Chicago, and Wood Dale, Illinois.  We offer virtual consultations too!
The information provided here is general in nature.  It is not a substitute for a consultation with a medical professional. Before any medical procedure, it is imperative that you discuss your personal medical history, risks, and concerns with your doctor. If you have questions during or after a procedure, your doctor should be immediately contacted. Avenue Women's Center is not an emergency center.  If you are experiencing severe symptoms, such as bleeding and/or pain, seek immediate medical attention.  Contact your physician, go to an emergency room, or call 911.