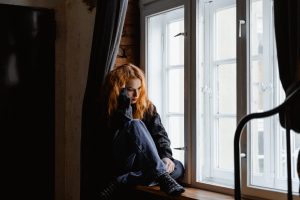 Facing the news of an unexpected pregnancy can feel jarring for a many reasons.  You may suffer from an overwhelming sense of shock, followed by confusion and tension as you consider the decisions ahead.  Perhaps frightening images are unfolding in your mind as you try to predict future outcomes.  You're not alone!  Many people have faced similar circumstances. Yet each situation involves circumstances, questions, and fears as unique as the woman at the center of them all.  Some women lean toward parenting. But maybe there are reservations based on their age, finances, past trauma, or a wide range of other factors.  Some may reflect on their childhoods and think to themselves, "My parents were terrible role models, so how could I possibly be a good mom?  I have nobody to look up to."
If you're dealing with difficult questions like this one, our expert team at Avenue Women's Center would love to help.  Our pregnancy consultants will listen to your concerns and provide support with empathy and professionalism.  Our services include consultations, practical referrals, pregnancy tests, and limited medical ultrasounds. 
Reach out to schedule a free and confidential pregnancy consultation!
"My Parents Were Terrible Role Models. How Could I Possibly Be a Good Mom?"
Thinking about future motherhood may bring about painful childhood memories.  Tapping into the emotions tied to these experiences can feel overwhelming or even unbearable. This is especially true when resources are scarce and sheer survival is commanding most of one's attention.  Questions that emerge from the deeply rooted pain of the past are not easily answered. If you're wrestling with this issue or one like it, know that your parents' or guardians' shortcomings are not your fault.  There is help available.  There is a way forward.
"Where Do I Go From Here?"
Most of us have, to an extent, been on the receiving end of flawed parenting. So, you're probably already well aware of our inability to change the actions of others.  Each of us must look to our own decisions and make the best judgment calls that we can based on the experiences, information, and resources we have.  As you consider whether to choose abortion, adoption, or parenting, it may be beneficial to ask yourself, "Will my actions bring about positive outcomes or further pain?"  The best path forward may seem unclear.  And each choice comes with its own set of risks.
A great place to start is by researching all the options and resources available. And it can allow you to take your next steps from an informed perspective.  A licensed counselor may also be able to help you understand your experiences more fully, bridge the gap between past and present, and begin a healing process. If you are leaning toward parenting, you may consider seeking out a dependable, unbiased mentor who can provide guidance and help you on the road ahead.  Taking the time that you need, gaining knowledge, and surrounding yourself with caring support are important to finding peace in your pregnancy decisions.  This peace is available to every woman, even those of us who haven't been blessed with positive role models.
Our team is here to speak with you about the family of origin concerns surrounding your pregnancy, and will never disclose any information to family unless you request that we do so.  Our pregnancy consultants would love to hear your story and may provide referrals for mental health counseling and other supportive resources that you may need. We can also equip you with the options information you need to make an informed pregnancy decision.
Schedule an appointment at one of our centers, located in Darien, Elmhurst, Glen Ellyn / Lombard, Naperville, West Chicago, and Wood Dale, Illinois.
The information provided here is general in nature.  It is not a substitute for a consultation with a medical professional. Before any medical procedure, it is imperative that you discuss your personal medical history, risks, and concerns with your doctor. If you have questions during or after a procedure, your doctor should be immediately contacted. Avenue Women's Center is not an emergency center.  If you are experiencing severe symptoms, such as bleeding and/or pain, seek immediate medical attention.  Contact your physician, go to an emergency room, or call 911.