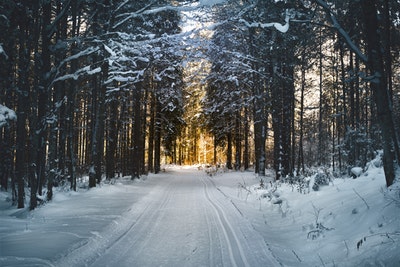 Following on the heels of autumn, where the sun's heat begins to dim and the leaves turn orange and red, winter has a tendency to creep up on us. It's hard to believe it's that time of year again already, where the earth enters a frosty sleep and we find ourselves huddling beside an iridescent fire to warm our frozen bones. The cold winds and sprinkling of icy white flakes upon the hardened ground are often admired best from your window, where you can gaze upon nature's wintry bed from the comfort of your home. This season is likely to keep you inside, and with so much time spent nestled in the warmth of your house, you may feel inspired to reflect on how much the little things can make you feel safe. Here at Avenue Women's Center, we devote ourselves to serving women faced with an unexpected pregnancy by providing them with support and care. We aspire to be a compassionate presence in women's lives, and we are pleased to hear from the women who felt comforted and secure after visiting one of our centers.
If you find yourself faced with an unexpected pregnancy, Avenue Women's Center will meet with you to address your concerns through a nonjudgmental environment. We provide our clients with free pregnancy tests, as well as the opportunity to meet with a client advocate to discuss your options. With six centers located in Darien, Elmhurst, Glen Ellyn, Naperville, West Chicago, and Wood Dale, Illinois, Avenue Women's Center aims to be an accessible resource for unexpected pregnancy help. Call, text, chat, or email us for an appointment today.
Here's what some of our December clients had to say about the help they received through Avenue Women's Center!
Elmhurst resident wore, "So many great resources that I never would have known about! Everyone was very kind and friendly."
Itasca resident wrote, "This place feels so welcoming and nice. My consultant was very patient and understanding so I didn't feel scared to say anything."
Carol Stream resident wrote, "Fast, attentive, easy to talk with and lots of great resources I would have not gotten otherwise. Good conversations too."
Romeoville resident wrote, "There was no negative comment or remark through the time I walked in to the time I walked out. Katy was excellent as well as the nurses, they gave me what I needed to know."
Aurora resident wrote, "Very satisfied. Listened to me and shared my pain. God Bless you. Thank you Sheila."
Wheaton resident wrote, "I like how they're so nice and kind and willing to help."
Elgin resident wrote, "They provided more information than what I thought."
West Chicago resident wrote, "Loved the availability and the consultant was very polite and helpful. I felt very welcomed."
Warrenville resident wrote, "Staff is very caring, empathetic, and very supportive."
Addison resident wrote, "The understanding of the situation: very friendly and caring. Thank you!!!"
Avenue Women's Center is here to offer unexpected pregnancy care at no cost to our clients. We provide women with a safe environment to freely discuss their feelings and concerns with an expert pregnancy consultant, offering unbiased guidance throughout the pregnancy decision-making process. Schedule an appointment with us today to receive reliable and accurate information about your pregnancy!
The information provided here is general in nature.  It is not a substitute for a consultation with a medical professional. Before any medical procedure, it is imperative that you discuss your personal medical history, risks, and concerns with your doctor. If you have questions during or after a procedure, your doctor should be immediately contacted. Avenue Women's Center is not an emergency center.  If you are experiencing severe symptoms, such as bleeding and/or pain, seek immediate medical attention.  Contact your physician, go to an emergency room, or call 911.