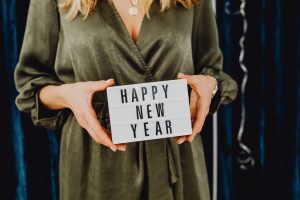 Do you find it hard to believe 2023 is already here?  For me, the early days of January sometimes feel like a shock to the system after all the commotion and festivity of the holiday season.  And unfortunately, few of us in Chicagoland prefer these mid-winter months.  Maybe the cold, gray days are getting you down.  At the same time, you're facing the uncertainty (and perhaps excitement) of a new year.  If you're coping with an unexpected pregnancy, your future may seem more unclear now, at the beginning of 2023, than it ever has before.
Avenue Women's Center is here for you!  We're a limited medical clinic with six locations in Chicagoland, offering free first-step pregnancy services to anyone facing an unexpected pregnancy.  Avenue provides lab-quality pregnancy tests and limited medical ultrasounds, equipping women to navigate the road ahead with an informed perspective.  We also provide pregnancy consultations.  These present a valuable opportunity to learn about options and resources, ask questions, and receive support alongside a caring consultant.
Call, text, chat, or email to schedule an appointment today!  Walk-ins are welcome!
Avenue Women's Center Reviews, December 2022
It's normal to feel anxious or frustrated after receiving a positive pregnancy result you didn't expect.  But pregnancy centers like Avenue exist to help women navigate this challenging road feeling educated and supported.  Many of the individuals who connect with us report having an all-around positive experience.  Here are some of the comments we received from women who accessed our services last month!
"Genuine staff, very welcoming & kind."
"Staff is very caring and attentive to your needs. They are great at giving all the information you need."
"Very supportive and informative. Will definitely recommend to people."
"Made me feel welcomed which was very comforting and reassuring."
"Very caring, respectful, no judgment, and helpful."
"How supportive they are (and) how easy it was to make an appointment."
"Very supported, listened to my input + opinions. Very sweet + can tell she has a great heart."
"I loved how I wasn't judged, I felt nervous at first but then I felt very comfortable."
"Everyone truly cares about what is going on in my life."
"Personas muy amables y me gusto mucho la experiencia." (Very nice people and I really enjoyed the experience.)
"I liked how Louise listened to my needs and was caring and understanding."
"I love everything about it, very well kept and Hannah was awesome."
"Everyone was nice and kind. Made me feel very comfortable with my situation and thoughts I was having. Very patient and understanding!"
"Very caring, made me very comfortable! I appreciate all the information. Thank you!!!"
"The whole experience was amazing."
"Just being comfortable. They made me feel safe to speak about personal experiences."
"I love the fact that they listen and don't judge and even though we are strangers she made me feel very comfortable to open up."
"Feeling 100% comfortable and supported thank you."
"Very friendly service. Made the visit easy and calm. Made me feel comfortable and cared for."
"They can understand where I'm coming from. I didn't feel judged and they offered some words of encouragement that I definitely needed."
"Jen was very informative & set my fears at ease!"
"Hannah and the doctor (nurse) were amazing!!! I appreciated all the resources & respect they gave me. Thank you for giving me more hope in my situation! I'm truly grateful!"
At Avenue Women's Center, we understand that every woman facing an unexpected pregnancy has one-of-a-kind values, strengths, and hopes, along with a unique set of circumstances.  The beginning of a new year (and a new pregnancy) is an excellent time to re-evaluate these.  Avenue Women's Center can help you take your next steps toward your own best outcome by offering reliable information and caring support.
Schedule an appointment today!  We provide virtual and in-person consultations!
The information provided here is general in nature.  It is not a substitute for a consultation with a medical professional. Before any medical procedure, it is imperative that you discuss your personal medical history, risks, and concerns with your doctor. If you have questions during or after a procedure, your doctor should be immediately contacted. Avenue Women's Center is not an emergency center.  If you are experiencing severe symptoms, such as bleeding and/or pain, seek immediate medical attention.  Contact your physician, go to an emergency room, or call 911.