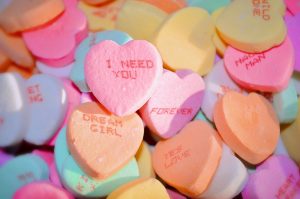 What was the highlight of your February?  Maybe you had a lovely Valentine's Day, or you've managed to get some extra rest during this generally slower-paced season.  I suspect that, for many of us, February's most positive quality is its short length.  Perhaps this past month has felt like an unnecessary extension of winter, a slow-motion marathon with spring lingering at a far-off finish line.  The truth is, there's beauty and joy to be found in every season if you're looking for it.
If you've recently found out you're pregnant and weren't anticipating this outcome, you're probably not in a very thankful mood today.  Stress, anxiety, anger, sorrow, and shock are natural responses to news of an unexpected pregnancy.  But maybe your situation has a silver lining.  Sometimes, the most important things in life- like our values, personal strengths, and the quality of our relationships- shine the brightest under difficult circumstances.
February may seem like just another cold, blustery month sandwiched between two long ones.  However, if you use your time and resources well, every day is an opportunity to identify areas of gratitude and press on toward your best outcome.  Avenue Women's Center exists to help persons facing an unexpected pregnancy do just that.  We're a limited medical clinic that provides free, confidential early pregnancy services at six locations in the western Chicago metro area.  It's our goal to offer you the information and support you need to move forward feeling strong and confident.
Learn more about our first-step pregnancy services!
Avenue Women's Center Reviews, February 2023
We receive positive feedback from the people we serve every day.  When asked what they liked best about Avenue, here's what some of the women who visited us in February said!
"The support system, all the options they have to help women."
"The prompt help is great. Most places schedule weeks out."
"The staff are friendly and supportive. The place is clean and comfortable. Lots of resources and information was given. Very helpful."
"Very kind, non-judgmental. Took time to learn about me as a person first, patient/client second."
"How I got to think out loud and get more resources to know I'm not alone if I decide to parent."
"I love how welcoming and sweet everyone was. I didn't feel pressured or overwhelmed at all.  It was an instant relief walking in."
"Hanna was very kind and gave me awesome resources to help with some of my worries."
"Gave me a peace of mind, made me feel safe, weight lifted off my shoulders. Informed me of my options."
"The warm and welcoming safe space and feelings it gives."
"Very comfortable space to talk about a hard subject."
"She was very understanding. She gave me all kids (kinds) of options. We talked about all stages about every option."
"Everything was perfect."
"How friendly everyone is. Great attitude!"
"Es un servicio excelente, te explican todo perfecto paso a paso y con mucha paciencia. / It is an excellent service, they explain everything perfectly step by step and with a lot of patience."
"How comfortable Avenue Women's Center made me feel! Will definitely recommend to anyone new to pregnancy."
"Very genuine, seemed concerned, answered all questions plus more."
"Before my ultrasound appointment Hanna sent me a text message, it was very sweet. Everyone today was very caring they listen to me, and gave me a lot of information."
Our expert staff at Avenue Women's Center goes the extra mile to make sure you feel safe, supported, and heard when you visit any of our six limited medical clinics or connect with us online.  After over forty years of faithful service, we're as passionate as ever about helping persons navigate the challenges of an unexpected pregnancy with courage and clarity.  We're in your corner no matter where this journey leads you.
Call, text, chat, or email to learn more and schedule a visit!  Walk-ins are welcome too!
The information provided here is general in nature.  It is not a substitute for a consultation with a medical professional. Before any medical procedure, it is imperative that you discuss your personal medical history, risks, and concerns with your doctor. If you have questions during or after a procedure, your doctor should be immediately contacted. Avenue Women's Center is not an emergency center.  If you are experiencing severe symptoms, such as bleeding and/or pain, seek immediate medical attention.  Contact your physician, go to an emergency room, or call 911.