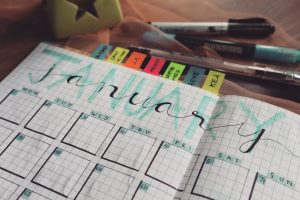 In some ways, beginning another year is like turning a new leaf or getting a fresh start.  But January doesn't always feel that way.  Does it seem like winter is stretching on and on?  Maybe you're feeling discouraged, because the same challenges you were facing in 2022 have followed you into 2023.  Or, you're disappointed that this new year- which looked so pure and promising at first- has already brought difficult days to your front doorstep.  This may ring true for someone who's recently experienced an unexpected pregnancy.
It isn't always easy coping with the cold wind and gray sky that many of us associate with January.  But there's hope and beauty to be found through every season of life.  If you've received a positive pregnancy result you weren't planning on or hoping for, our expert staff at Avenue Women's Center would love to meet you in that challenging place.  We're here to offer reliable information and warm encouragement throughout this new year.
Learn what we're "About" at Avenue!  Our no-cost services include medical-grade pregnancy tests, options consultations, and more!
Avenue Women's Center Reviews, January 2023
Let's hear from some of the women who visited our centers this January, and let us know what they liked best about the experience.
"What I liked about my visit was how open the staff is with any decision I choose. The staff is very open to listen and not judge one."
"I like that they respect your decisions, and they care so much about you. They're very sweet and nice, very professional."
"Communication and privacy are on a level that is higher than anything we ever experienced. Thanks."
"Made me feel very comfortable, with no judgement."
"Everyone was very caring. Everything was explained well."
"I appreciate how they followed up about me attending my appointment through text and making sure I get resources."
"Amazing job explaining the programs they offer."
"Friendliness and resourceful and informative."
"Support and medical staff were incredibly attentive and made sure to listen to my needs and goals! I appreciate the attention to detail and care I received and for making my boyfriend part of the process.  Thank you 1000x."
"Easy, very supportive, has good knowledge base."
"They make you feel very safe, they care, and inform you. A lot of options and answer any questions.  I feel happy that there is a center like this for women."
"Lisa was extremely understanding and more than happy to provide me with whatever information she could to make me comfortable."
"Took me in first, made significant other wait, private, safe environment, super nice staff."
"Very kind and caring! Really listened to me, very supportive!"
"Jen was very sweet and personable, 10/10."
"Welcoming and helped me understand all my potential options. Thank you, I really appreciate you guys and all these services!"
Our team at Avenue strives to help individuals feel safe and valued when they reach out for support.  We're here to provide amazing service and an overall positive experience, so you feel encouraged and equipped throughout your pregnancy journey, wherever it leads.
Schedule an appointment at one of our six limited medical clinics in Chicagoland, Illinois! We look forward to hearing from you!
The information provided here is general in nature.  It is not a substitute for a consultation with a medical professional. Before any medical procedure, it is imperative that you discuss your personal medical history, risks, and concerns with your doctor. If you have questions during or after a procedure, your doctor should be immediately contacted. Avenue Women's Center is not an emergency center.  If you are experiencing severe symptoms, such as bleeding and/or pain, seek immediate medical attention.  Contact your physician, go to an emergency room, or call 911.