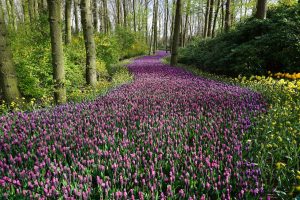 I love observing the first signs of spring from the warm interior of my home (because it's still too cold to spend much time outside, at least here in Chicagoland!).  There's something cheerful about the bright new greenery emerging from my muddy flower beds.  Maybe you've been relieved to see daylight streaming through your windows at 5 pm or wake up to the sound of birds chirping.  Spring is a time of hope and refreshment.  But if you're managing an unexpected pregnancy, the emotions inside you probably aren't in harmony with the blossoming happening outdoors.  You may feel like you're facing dark days ahead.  As challenging as your situation may be, you don't have to get by on your own.
Our caring team members at Avenue Women's Center are available to navigate these circumstances by your side.  We've been faithfully serving individuals experiencing unexpected pregnancies since 1981.  Avenue provides limited medical services and practical referrals to help you carry on, even thrive, in the middle of this stressful situation.
Learn more about Avenue!  We offer honest, reliable information about your options and resources, so you feel equipped to move forward with an informed perspective.
Avenue Women's Center Reviews, March 2023
Stressful circumstances, like an unexpected pregnancy, can naturally steal away the joy of a fresh, new season.  Our staff is committed to helping you feel seen and supported in spite of this.  We request feedback from every person who receives our services if she's open to sharing.  Here are some of the answers we were given within the past several weeks when we asked women what they liked best about Avenue.
"I liked the compassion and care they provided, such amazing women all around."
"Everyone was friendly and nice. Super easy to make appointments."
"Everyone was so nice and welcoming! Made me feel safe."
"All the resource information provided and the emotional support."
"I love the information that was provided. Everyone was so understanding and knowledgeable."
"The staff was extremely helpful, welcoming and nice. I was very comfortable throughout my entire visit."
"I loved being able to have the opportunity to be open and honest about what I'm experiencing. It's really heart warming to come to a place where you're welcomed by strangers."
"I like the reassurance and attention that was given at my appointment. I was very well educated and confident in my decision.  All the information I was given was helpful.  On top it it all, super friendly staff."
"They were all so nice and I felt very comfortable through the process especially because I had to come alone. They were great!!"
"The support, confidentiality, they made sure I left with all the information I was looking to know."
"Louise was very welcoming and understanding. I let her know my situation and felt no judgment."
"Personalized care and understanding staff."
"Caring women to work with/great service to offer to community."
"The kindness. Louise was very compassionate and sweet. I felt comfortable speaking with her."
"Service is always top notch and everyone is sweet and caring."
"Professional. They are interested in wanting (to) help. Passion. Patience."
Avenue Women's Center strives to offer high-quality care and an overall positive experience to every person we connect with.  Our free, confidential services include lab-quality pregnancy tests, pregnancy consultations, and more!
Scheduling is easy and we can often provide same-day appointments.  Contact us to book an appointment!  Walks-in are welcome too!
The information provided here is general in nature.  It is not a substitute for a consultation with a medical professional. Before any medical procedure, it is imperative that you discuss your personal medical history, risks, and concerns with your doctor. If you have questions during or after a procedure, your doctor should be immediately contacted. Avenue Women's Center is not an emergency center.  If you are experiencing severe symptoms, such as bleeding and/or pain, seek immediate medical attention.  Contact your physician, go to an emergency room, or call 911.