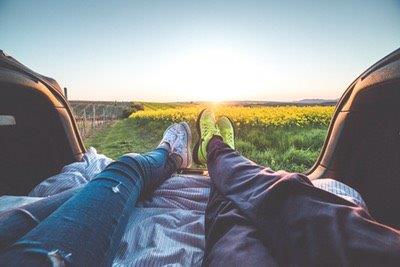 May is a month of flowers blooming, sunny skies, and the occasional thunderstorm. It brings both beautiful days and days of rain. The month of May symbolizes how life can look sometimes: a mixture of the sunny days and the rainy days. The "sunny days" might include a promotion at work, buying a new house or maybe graduating from school. A "rainy day" might include a job loss, the ending of a relationship or maybe an unplanned event. Avenue Women's Center specializes in helping those facing unplanned events, specifically unplanned pregnancies.
Are you or someone you know just finding out about a pregnancy that wasn't expected? With four Chicagoland locations, we are here for you. Please call us today.
Avenue Women's Center provides caring and confidential help for anyone facing an unplanned pregnancy. We want you to have confidence when you call – confidence that you will be treated with all the respect and support you deserve. Check out what our recent clients have said about Avenue Women's Center:
Downers Grove resident wrote: "Sense of understanding & kind goodhearted people. I didn't feel like I was on an assembly line."
Bolingbrook resident wrote: "It's not at all what I expected. Such a safe space. Thank you, thank you, thank you."
Bensenville resident wrote: "I really loved working with Terri and the best part was that she made me feel very comfortable. She took the time to hear me out and help me. Terri is great and I feel very happy that I was able to work with her. I will def. be referring her with people in need. Thank you Terri!"
Aurora resident wrote: "Love Lindsay. So sweet and understanding! I never thought I could feel so safe during this experience."
Joliet resident wrote: "Nikki is amazing. She made me very comfortable and she had all the information I requested. Thank you so much!"
Naperville resident wrote: "I felt very open to talk about my feelings, very comfortable and informative. Helped me not to worry so much. Glad they keep your info private and they can text me instead of calling."
Lockport resident wrote: "The clarity of my options. Knowing what's best for me."
Carol Stream resident wrote: ""How everything was explained and I was able to tell her how I feel about the situation. I felt I was able to open up to her about some things. She's great."
Lake in the Hills resident wrote: "I feel as if I'm home. Take care of me and kind wonderful people who work here."
Crest Hill resident wrote: "Lindsay was very considerate of my situation and possible needs. She made the experience easier to handle."
Carol Stream resident wrote: ""Extremely easygoing and calming. Made me feel like there is hope."
Summit resident wrote: "Counselor and Nurse were both very nice, but counselor definitely went above and beyond her duty by asking my true thoughts and feelings and listening to me. She seemed extremely open and helpful. Made me feel as if I could say whatever was on my mind and I greatly appreciate her for that."
Bolingbrook resident wrote: "Was given all information to make all options available to me. Spoke freely and felt like was speaking to an old friend without being judged."
Every staff member at Avenue Women's Center cares about you and your unique situation. Everyone's story is different, and everyone's story matters. Avenue Women's Center provides services such as medical grade pregnancy tests and private pregnancy consultations, free of charge. If you or someone you know is facing an unplanned pregnancy, we hope you will let Avenue Women's Center be your next step.
Please call or text us today. You don't have to do this alone.
The information provided here is general in nature.  It is not a substitute for a consultation with a medical professional. Before any medical procedure, it is imperative that you discuss your personal medical history, risks, and concerns with your doctor. If you have questions during or after a procedure, your doctor should be immediately contacted. Avenue Women's Center is not an emergency center.  If you are experiencing severe symptoms, such as bleeding and/or pain, seek immediate medical attention.  Contact your physician, go to an emergency room, or call 911.