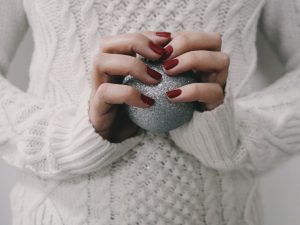 Another November has come and gone.  To say "Christmas is right around the corner" would probably sound cliché.  And yet, that may be a message you're receiving loud and clear from family members, media, advertising…the list goes on.  You may (or may not) enjoy this time of year.  For many of us, Christmas and other winter holidays call to mind cozy images of tables filled with mouth-watering foods and the pleasant chatter of family all around us.  But even if you're putting up festive décor and shopping for gifts, trying to get into the holiday spirit, perhaps there's something else pressing heavily on your mind.  Maybe you're struggling to cope with an unexpected pregnancy.  If so, you're not alone.  Avenue Women's Center is here to encourage you and lighten your load.
The holidays are a lonely and overwhelming time for many individuals.  You may be feeling the weight of the world right now, especially if your loved ones don't know about your pregnancy, or you don't have loved ones to share your news with.  Our caring staff at Avenue is available to offer a listening ear and process this situation by your side.  We understand what a challenging time of year this can be, even under normal circumstances.  We'd love to offer the services and support you need!
Contact us today to schedule a confidential pregnancy consultation.  Avenue provides first-step services like medical-grade pregnancy tests and limited medical ultrasounds at no cost!
Avenue Women's Center Reviews, November 2022
At Avenue, we're committed to offering high-quality services with a compassionate, personal touch.  Let's hear from some of the women who visited our six centers this past November, and noted what they liked best about the experience.
"La atencion y la manera como fue la explicacion para todas mis dudas. (The attention & the way the explanation was for all my doubts.)"
"All the ladies were very supportive and attentive to my needs and concerns in a very nonjudgmental way. Helped ease my nerves."
"Louise and how comforting and informational/genuine she was."
"Jen was super informational and it felt like she was an extension of support. Thank you!"
"How welcoming (welcomed) I felt coming in and caring everyone was. I felt like you guys are close to me. Thank you."
"Excelento servicio, Christa muy amable y atenta, nada que mejorar. Muy agradecida por su atención. (Excellent service. Christa was very nice and attentive, nothing to improve. Very grateful for your attention/care.)"
"How informative and gentle everyone was."
"How fast and clear staff was. This was a safe and very welcoming environment in someone's very vulnerable moments. Thank you."
"Close to home, free, amazing service."
"I liked that the staff made sure I was comfortable and gave me all good information."
"We were assisted very kind (kindly) and we were welcomed and comforted by the services provided."
"Was caring and listened to my needs. Gave me information on things that could help me financially."
"The service was great! Very caring, supportive, made sure I had all information needed!"
"I felt relief being able to be open and not feel judged. The space felt safe. Thank you!"
"I love the fact that I felt like it was a safe (place) to express myself. I really appreciate her listening to me."
"How welcoming & comfortable I felt. I love how there is never any judgment."
"Everyone was caring and listened to all I had to say. It was a calming, assured environment."
At Avenue Women's Center, it's our mission to empower you through excellent services and accurate information on all your options and resources.  We're here to support you through the holiday season (and beyond)!
Reach out to us to schedule a consultation at one of our six locations in Chicagoland, Illinois.  We look forward to hearing from you!
The information provided here is general in nature.  It is not a substitute for a consultation with a medical professional. Before any medical procedure, it is imperative that you discuss your personal medical history, risks, and concerns with your doctor. If you have questions during or after a procedure, your doctor should be immediately contacted. Avenue Women's Center is not an emergency center.  If you are experiencing severe symptoms, such as bleeding and/or pain, seek immediate medical attention.  Contact your physician, go to an emergency room, or call 911.