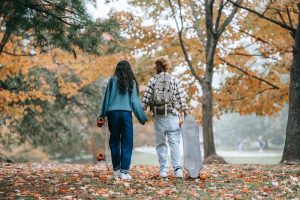 We've arrived at the very heart of autumn!  Chances are, this season has introduced its share of changes, challenges, and beauty into your life.  Isn't it amazing how all of these can exist together?  Although many of us dread the temperature drop that's characteristic of October, this same yearly pattern is also responsible for the gorgeous fall colors.  Sometimes, the difficulties we face in life are a bit like that.  Maybe you're coping with an unexpected pregnancy this fall.  And, despite the stressful circumstances, there've been glimmers of beauty and gratitude- revealed through the support of your partner or the kindness of your family.  On the other hand, maybe you don't see how any good could possibly come out of your situation.  There's help and hope available- regardless of where you find yourself today!
At Avenue Women's Center, our first-step pregnancy services are customized according to your needs- because we understand that every woman's pregnancy story is unique.  Our expert staff is available to listen and provide accurate information about your pregnancy and options.  Every woman deserves to feel informed and empowered as she navigates this challenging road.  It's her choice to pursue this, just as a pregnancy decision is hers to make.  But Avenue can offer caring and practical support to help her thrive.
Learn more about our confidential, no-cost services!
Avenue Women's Center Reviews, October 2022
We often get positive feedback from the courageous women who visit our six limited medical clinics or connect with us virtually.  Here are some comments we received over the past month when we asked women what they liked about Avenue.
"They're very caring, good listeners and very understanding."
"You guys were helpful with resources and explained everything with detail."
"I loved having someone to talk to and to support the decisions I was thinking about."
"Both ladies were very accommodating and sympathetic to my needs."
"The consultants are very much supportive and informative. Really appreciate it. Thank you."
"Very friendly, helpful, online appointment."
"Very helpful, informative and nice."
"They take their time to listen to you and provide with help and information. Very nice and sweet people. Thank you Avenue Women's Clinic (Center)."
"Hannah did a great job explaining. She was caring and listened."
"She was very understanding and listened to all of my needs and concerns."
"The Support and information."
"I loved my experience with Lisa and Alesha. They both did a great job and gave me a lot of information."
"The kindness and understanding."
"Nice people and feels cozy. I liked that I was able to feel comfortable."
"Care of staff. Made me feel very comfortable. Thank you!"
"The caring nature and support."
Avenue Women's Center is committed to offering women in Chicagoland, Illinois and beyond a safe, confidential space to process their circumstances and consider their next steps.  We've been a valuable resource to women and couples facing unexpected pregnancies since 1981.
Contact us today to schedule an appointment and learn how we can help lighten your load through this challenging season.
The information provided here is general in nature.  It is not a substitute for a consultation with a medical professional. Before any medical procedure, it is imperative that you discuss your personal medical history, risks, and concerns with your doctor. If you have questions during or after a procedure, your doctor should be immediately contacted. Avenue Women's Center is not an emergency center.  If you are experiencing severe symptoms, such as bleeding and/or pain, seek immediate medical attention.  Contact your physician, go to an emergency room, or call 911.