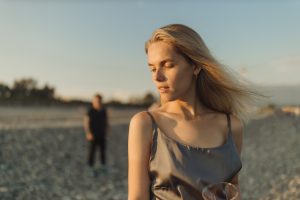 Are you unexpectedly pregnant and in a complicated relationship?  Maybe your situation involves two men: your boyfriend, and the person you became pregnant by while your boyfriend was out of the picture.  Maybe you didn't think you and your boyfriend or ex-boyfriend would continue a romantic relationship.  Or, maybe you saw yourself getting back together with him at some point, but had a fling with someone else during the interim.  You may (or may not) be sorting through confusing feelings for both men.  Whatever unique challenges you're facing, these types of circumstances can add confusion and anxiety to an already tense situation.  It's easy to believe you may have limited options because your boyfriend isn't the father.  But it's not true.  You have full freedom and autonomy to make your own pregnancy decision!  And there's support available to help you take your best step forward.
If this sounds like your situation, our team at Avenue Women's Center is here for you.  We provide lab-quality pregnancy tests, limited medical ultrasounds, and pregnancy consultations free of charge.  No woman should feel pressured into a pregnancy decision based on her complicated circumstances.  We support the courageous women we serve, empowering them to make free and informed decisions.
Call, chat, email, or text to speak with one of our expert staff members!
"Who do I Tell?"
If two or more men are involved, choosing who to communicate with and what to say can be especially difficult.  You may be asking yourself, "Should I tell my boyfriend that I'm pregnant, or that he's not the father?  Should I tell the person I became pregnant by?"  Perhaps you're not even in touch with this person anymore.  You may be wondering if you should tell your family and friends who may interact with one or both of these men.  This situation and all the questions and emotions surrounding it can feel incredibly overwhelming.  But it's your choice how to proceed.  And caring support is available as you carry on with any decisions or conversations ahead.
Support: A Source of Encouragement
If you're not sure where to begin, it may be helpful to speak with a thoughtful, trustworthy individual who is not directly involved.  This may be a personal acquaintance or a professional (like a counselor, faith leader, compassionate health care provider, or pregnancy consultant).  This person can remind you that you are not alone and offer support as you consider your next steps.  Depending on her or his role, a trusted confidant may also be able to mediate a conversation between you and those you wish to speak with about your pregnancy.  This may present an opportunity for each person involved to express herself or himself, and to listen to the thoughts and feelings of others.
Knowledge: A Valuable Tool
Gathering information about your pregnancy, your options, and the resources available to you is a critical early step.  Once your pregnancy is confirmed, an ultrasound can determine the possibility of miscarriage or ectopic pregnancy (a pregnancy that is located outside the uterus).  If your pregnancy is not expected to continue, this can inform your next steps.  And if the ultrasound reveals a dangerous condition like ectopic pregnancy, you'll know to seek medical care immediately.  Your safety is always the number one priority!
Learning about your pregnancy options and weighing the risks and benefits will allow you to make an informed decision, as will understanding your available resources.  Women considering parenting often have access to support and practical tools that they may be unaware of.  When a pregnancy journey involves complicated relationships, the path forward may be challenging and will probably look different for each woman.  However, expanding your knowledge regarding your pregnancy, your options, and your resources may offer some much-needed clarity.
No matter how confusing your circumstances may be, or how overwhelmed you feel, you're not alone!  Our compassionate, nonjudgmental team members at Avenue Women's Center are here for you.  We'll offer a listening ear, helpful information, and ongoing support as you navigate the road ahead.  We understand that your situation may involve confusing feelings for two or more men, and we're committed to responding to your needs with kindness and sensitivity.
Check out our services!  They're free, confidential, and often available same-day!
The information provided here is general in nature.  It is not a substitute for a consultation with a medical professional. Before any medical procedure, it is imperative that you discuss your personal medical history, risks, and concerns with your doctor. If you have questions during or after a procedure, your doctor should be immediately contacted. Avenue Women's Center is not an emergency center.  If you are experiencing severe symptoms, such as bleeding and/or pain, seek immediate medical attention.  Contact your physician, go to an emergency room, or call 911.