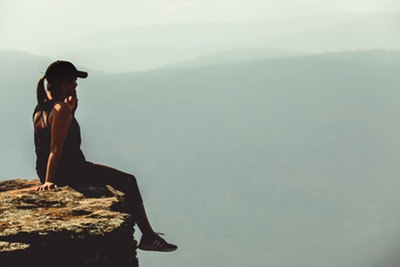 Fear has a way of overtaking us at what seems like the worst possible times. We can either look for the nearest escape route, or we can confront whatever it is with head-on determination. Facing what scares us most takes a kind of courage we don't always find so easily. What if your fear is what to do about an unexpected pregnancy? How can you be brave and bold in a pregnancy decision?
An unexpected pregnancy situation can be scary to face. At Avenue Women's Center, we provide care and support to women in their first steps with free pregnancy decision-making services. Our expert staff provides reliable and accurate information about each of your options in supportive, nonjudgmental, and compassionate environment. Contact us for your free options consultation today!
We all do things that scare us and survive them. You went fast down that giant hill on your bike. You took that important test in school that impacted your future. You started that new job or completely changed your career altogether. You did that crazy thing no one imagined you would ever try, let alone do. And each time something scary happened, you came out on the other side of it. Maybe you were different, changed, or affected in some way afterwards. Or perhaps you learned some tough but valuable lessons along the way. While a pregnancy is a more significant and life-impacting decision, some of the same emotions bubble up as you go through your options.
You may want to run and hide from this pregnancy decision, but at some point you'll have to choose what's best for you. For a lot of women in your similar unexpected pregnancy situations, it can be a fear of making a choice they might later regret. For others, mixed emotions about their pregnancy options can make their heads swim with possibilities, doubts, and concerns about what do. Whatever the reason, you may not be feeling so brave and bold in your pregnancy decision. However, taking on these feelings could be helpful in moving you forward to your next steps.
Being Brave and Bold in a Pregnancy Decision
Be bold in your pregnancy decision and challenge yourself to think about the possibilities that might be terrifying to confront. What are your greatest fears about each of your pregnancy options? What are some possible ways to handle or overcome some of your concerns? Is it concern about outside opinions from others? Is it pressure from your partner to decide? Are temporary circumstances impacting this permanent decision? Take time to reflect on what is worrying you the most, and what is causing any difficult feelings.
Becoming more informed can help provide reassurance and different paths forward in your pregnancy decision. The more information you have to answer your unique questions, the more potential for making a decision you can feel confident about. Take bold steps forward and face your pregnancy decision with facts about parenting, adoption, or abortion. Ask the challenging questions weighing on your thoughts such as …
Parenting: What are some resources in your area if finances are a concern? Are there local support systems if your partner or loved ones aren't involved?
Adoption: What are the state laws regarding possible adoption plan options? How might legal assistance be helpful as you decide?
Abortion: What are the different abortion procedures and the possible risks involved with each one? How might you be affected physically and emotionally after abortion?
Avenue Women's Center can help answer questions like these and more with the free options consultations we provide. Our pregnancy consultants take the time to listen and address your personal concerns with accurate information about all of your options. Learn more about parenting, adoption, and abortion to make an informed decision that's best for you. Reach out to us today and set up your appointment in Darien, Elmhurst, Glen Ellyn / Lombard, Naperville, West Chicago, or Wood Dale, Illinois.
The information provided here is general in nature.  It is not a substitute for a consultation with a medical professional. Before any medical procedure, it is imperative that you discuss your personal medical history, risks, and concerns with your doctor. If you have questions during or after a procedure, your doctor should be immediately contacted. Avenue Women's Center is not an emergency center.  If you are experiencing severe symptoms, such as bleeding and/or pain, seek immediate medical attention.  Contact your physician, go to an emergency room, or call 911.