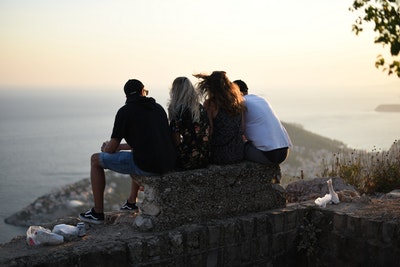 An unexpected pregnancy can be an emotional journey, but having a strong support system behind you can make a huge difference. When facing the challenge of making a decision about your unexpected pregnancy, members of a support system can be there for you to listen. Not only can this enable you to hear your pregnancy plans out loud and find the right one for yourself, but a sympathetic group of people may be able to assist you through any difficult emotions that may lay ahead during your unexpected pregnancy journey.
If you're facing an unexpected pregnancy decision, you are not alone. Avenue Women's Center is here to offer unexpected pregnancy support through free, confidential services geared towards providing you with the information needed to make a decision. Our expert pregnancy consultants can sit down with you for a discussion about parenting, adoption, and abortion, addressing your unique concerns and answering questions about each choice. Reach out and schedule an appointment today at any of our centers located in Darien, Elmhurst, Glen Ellyn / Lombard, Naperville, West Chicago, and Wood Dale, Illinois!
Who Should I Include in a Support System for an Unexpected Pregnancy?
Before you make an unexpected pregnancy decision, it may be important to ask, "Who can I talk to about my pregnancy?"
It's normal to feel an assortment of emotions during an unexpected pregnancy, and it may not be as easy as simply turning these feelings off when you're stressed. Building a positive community around yourself may work to dispel feelings of isolation during an unexpected pregnancy, and being able to talk about your emotions may help you see what steps you may need to arrive at a healthy outcome for yourself.
Seeking support for an unexpected pregnancy may allow you to hear a perspective that's not limited to your own headspace, helping you bounce your unexpected pregnancy plan off of someone else. Those you involve in your support system for an unexpected pregnancy may include a variety of people who can offer kind words as they listen to your concerns. The people you may seek out for support during an unexpected pregnancy may be your:
Partner/Spouse
Close friends
Parents
Siblings
Extended family
Teacher or mentor
Pregnancy Consultant
Counselor/Therapist
Spiritual Leader
There may be a benefit to including professional resources in your support system, such as a counselor or a pregnancy consultant. Especially if you find yourself worried about who you may be able to reach out to, pregnancy consultants can be there for you during an unexpected pregnancy. Professional resources usually have the experience in talking to women facing an unexpected pregnancy, and they may be able to grant you space to share your feelings with someone who is equipped to answer your concerns.
How a Support System Can Help During an Unexpected Pregnancy
A support system can be beneficial in several ways, as they can walk with you through the decision-making process. Your parents, friends, or other connections may be able to offer you comfort during this time, lending you their strength to prevent you from becoming too overwhelmed during your unexpected pregnancy. Adding outside professional support may also help you feel more confident about making a decision, as these resources can supply you with objective information about each option, and assist with extending your support system.
Counselors, spiritual leaders, or pregnancy consultants may also be able to facilitate a discussion with others in your life about your unexpected pregnancy. Having those who are important to you understand the decisions you're contemplating may help you feel less isolated, while in turn, helping your loved ones to better understand how to better support you. This also can be beneficial if you are concerned about how others may react to your pregnancy news, helping to create a space to break the news and have a healthy dialogue.
A strong support system during an unexpected pregnancy can serve as a positive force behind you, as having a helpful presence beside you may reduce some of your anxieties. The little things often go a long way, and sometimes just having a friendly face to talk with can make a challenging situation less difficult. Let others know how they can help you, as surrounding yourself with those who can be there for you may be a worthwhile first step towards the creation of a mutually supportive system.
Avenue Women's Center understands the need to feel supported during an unexpected pregnancy. Our expert pregnancy consultants offer compassionate and nonjudgmental care by taking time to sit down and answer any pregnancy-related questions with openness and accuracy. During your free appointment, you will receive information and support you need to take your next steps in your pregnancy decision. Our staff can also equip you to share your unexpected pregnancy news with those you care about. You are not alone. Contact us to schedule a free appointment today!
The information provided here is general in nature.  It is not a substitute for a consultation with a medical professional. Before any medical procedure, it is imperative that you discuss your personal medical history, risks, and concerns with your doctor. If you have questions during or after a procedure, your doctor should be immediately contacted. Avenue Women's Center is not an emergency center.  If you are experiencing severe symptoms, such as bleeding and/or pain, seek immediate medical attention.  Contact your physician, go to an emergency room, or call 911.