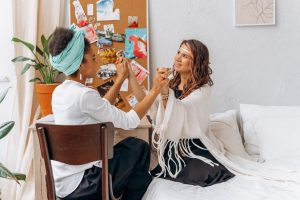 Facing unexpected pregnancy on your own can be distressing. You might be worried about the stigma surrounding this situation. Maybe that's keeping you from sharing with anyone. But holding onto something like this by yourself can feel lonely and more difficult. Maybe you feel like there's nobody around who you can tell or even trust. So, how do you go forward with finding somebody to support you during this time?
Are you having trouble figuring out who you can trust with your news? Do you find yourself worried about what people might think if they find out about your unexpected pregnancy? You don't have to process these things alone. Avenue Women's Center would love to help you fight against stigma and find a true support network.  
Call or text us today to talk with a consultant!
Steps to Identifying a Trustworthy Person
You might be thinking about the people in your life and feel uncertain. Perhaps you don't consider any of them trustworthy enough to share this news with. Maybe you've been judged before and you don't want to feel judged again. Or, maybe, you're just worried about what they'll think and how they'll react. This can be a difficult spot to find yourself in and it's important to find somebody who will listen to you without judgment.
It can be helpful to ask yourself some questions about what kind of qualities you'd like in a trustworthy person.
When you imagine telling somebody about your pregnancy, what is that person like? Are they caring, patient, accepting, and helpful? Or perhaps compassionate, gentle, and a good listener?
Do you want somebody who will sit back and listen or who will give you advice?
Do you want this person to be somebody who is already close to you?
Has this person listened to and accepted you for who you are and your decisions in the past?
Do you think this person could react in a positive or supportive way?
Has this person gone through difficulties and challenges in their life that make them more understanding?
Once you've thought through the kind of person you'd like to share your news with, the next step is finding that person. Is there somebody you know who matches closely with your list?
Reaching Out to a Trustworthy Person
Finding somebody to confide in who will be accepting and nonjudgmental can be a huge relief!
Are you looking for nonjudgmental support for your unexpected pregnancy? Our caring pregnancy consultants would love to offer you a neutral space to talk about your unexpected pregnancy and receive relevant services. We can listen to your story, provide available resources, and assist you in taking the next steps!
Contact us today for nonjudgmental pregnancy support!
The information provided here is general in nature.  It is not a substitute for a consultation with a medical professional. Before any medical procedure, it is imperative that you discuss your personal medical history, risks, and concerns with your doctor. If you have questions during or after a procedure, your doctor should be immediately contacted. Avenue Women's Center is not an emergency center.  If you are experiencing severe symptoms, such as bleeding and/or pain, seek immediate medical attention.  Contact your physician, go to an emergency room, or call 911.