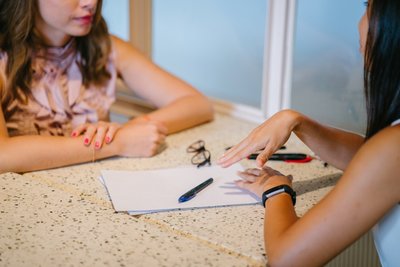 Each unexpected pregnancy situation has its own unique story. Different circumstances, different emotions, and different outcomes. Some women consider abortion because of their circumstances, finances, or lack of support. Others may decide against abortion due to their personal beliefs or morals. Still others view abortion separate from their circumstances or personal opinions. For them, abortion is a medical decision.
An abortion decision can include varying factors and raise some challenging questions. Find nonjudgmental and empathetic answers to your abortion questions at Avenue Women's Center. We've supported women facing unexpected pregnancy decisions for over 35 years, and we understand that each situation and each person has their own unique concerns. Our knowledgeable and compassionate client advocates will take the time to address your questions about abortion in a free and confidential pregnancy consultation. Call, text, chat, or email us today for your free appointment at one our five Chicagoland locations.
If you are considering abortion as a medical decision, here's some information to consider:
Medical Facts About Abortion
In medical terms, "an abortion is a procedure to end a pregnancy ."* The two main types are a surgical abortion and medication, or medical, abortion. Surgical abortions can include different procedures such as dilation and curettage (D&C), dilation, and evacuation (D&E), vacuum aspiration, or labor induction. A medication abortion stops a pregnancy from progressing through administered drugs and is commonly called the abortion pill. Two drugs of Misoprostol and Mifepristone (or RU-486) are administered in two phases, and the last drug is typically taken at home. Antibiotics are often prescribed to prevent infection in either surgical or medical abortions, as well as pain medication to manage possible side effects. Ultrasounds are usually performed before an abortion to confirm how far along a pregnancy is since the gestational age determines which type of abortion can be performed.
Possible Abortion Risks
There are risks involved in any medical procedure. An abortion can cause side effects such as bleeding, cramping, abdominal pain, nausea, vomiting, or diarrhea. Some might experience mild symptoms similar to or greater than a menstrual period, while others face more severe side effects. More serious complications can include heavy or persistent bleeding, infection or sepsis, and damage to the cervix, uterus, or other organs.* These complications are rare and affect less than 1 percent of women, but as the American Pregnancy Association explains, "What matters is that you are aware that these risks exist as you strive to make an informed decision about your pregnancy." Everyone's body is different, and it can be difficult to determine how your body will specifically react to an abortion. Many women wonder about their futures and if they'll be able to be pregnant again. While there are risks involved, having an abortion isn't an end to ever becoming pregnant or continuing a pregnancy later on in life. To learn more about your personal abortion risks, it's important to discuss your medical history and be open about your future concerns with your doctor or health care professional.
Making an Abortion Decision
Regardless of the medical considerations, ultimately an abortion is a personal decision. An unexpected pregnancy decision can be tough to face for anyone. As you weigh your pregnancy options, it's more than just learning about the medical facts of each one. A pregnancy decision can have lasting emotional and physical effects that are important to consider. Before you make an abortion decision, dig deeper into the aspects that matter most to you, and give yourself the chance to evaluate what it might mean for your personal best choice.
If you're considering abortion as a medical decision, you don't have to make this choice on your own. Avenue Women's Center is here to be an understanding and safe place for you to discuss your abortion questions and concerns. Our expert client advocates care about supporting you as you take the first steps in your pregnancy decision with accurate information about abortion and abortion alternatives. Contact us today to make your free pregnancy consultation appointment at our locations in Elmhurst, Glen Ellyn/Lombard, Naperville, West Chicago, or Wood Dale, Illinois.
---
References:
American Pregnancy Association. (2016, September). Possible Physical Side Effects After Abortion. Retrieved from: http://americanpregnancy.org/unplanned-pregnancy/abortion-side-effects/.
MedlinePlus®. U.S. National Library of Medicine. (2018, March). Medical Encyclopedia: A. Retrieved from: https://medlineplus.gov/abortion.html.
Reviewed by Patricia Kuenzi, APN-CNP, MSN, ANP, PNP.
The information provided here is general in nature.  It is not a substitute for a consultation with a medical professional. Before any medical procedure, it is imperative that you discuss your personal medical history, risks, and concerns with your doctor. If you have questions during or after a procedure, your doctor should be immediately contacted. Avenue Women's Center is not an emergency center.  If you are experiencing severe symptoms, such as bleeding and/or pain, seek immediate medical attention.  Contact your physician, go to an emergency room, or call 911.