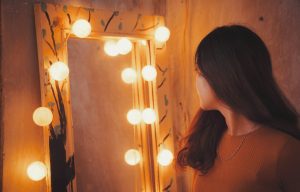 Depression is, unfortunately, an extremely common condition in this day and age.  According to a 2022 article from Columbia University, based on data from previous years, almost one in ten Americans (and nearly one in five adolescents/young adults) has depression.  That's a large number of people!  In fact, major depressive disorder is considered to be the most widespread mental disorder in the United States.  Maybe you're one of the many who struggle with clinical depression.  And, as though that wasn't hard enough to manage, you're also coping with an unexpected pregnancy.  Are you leaning toward having an abortion because of the mental health challenges you're wrestling with?  If so, know that you don't have to walk through this difficult season of life on your own!
Maybe you're considering an abortion because you're afraid that parenting or creating an adoption plan would lead to more severe depression.  Perhaps you're concerned about the possibility of your depression having a negative influence on your future kids.  Whatever doubts you're facing, it can be enlightening to access reliable information about your pregnancy, your options, and available resources.  Our caring staff at Avenue Women's Center is available to help you navigate your own path.  We've been meeting women's needs for over forty years!
Reach out to learn more and schedule an appointment!  We provide free medical-grade pregnancy tests, options consultations, and more!
Understanding Clinical Depression
So, what is clinical depression (aka major depression or major depressive disorder)?  Mayo Clinic describes it as a form of depression that's especially severe and lasting.  Below are some of the possible symptoms, drawn from the Diagnostic and Statistical Manual of Mental Disorders (DSM-5).  Qualified professionals use criteria like these to assess the presence of clinical depression and determine if a diagnosis is justified.
"Feelings of sadness, tearfulness, emptiness or hopelessness"
"Loss of interest or pleasure in most or all normal activities"
"Sleep disturbances, including insomnia or sleeping too much"
"Tiredness and lack of energy"
"Slowed thinking, speaking or body movements"
"Feelings of worthlessness or guilt, fixating on past failures or self-blame"
"Frequent or recurrent thoughts of death, suicidal thoughts, suicide attempts or suicide"
Accessing Support
It can be particularly difficult for someone who's depressed to find the motivation to build a healthy support network.  But, if you think that you may be suffering from symptoms of depression (clinical or otherwise), it's vital to prioritize your own wellness and get help.  Confide in someone you trust- like a medical professional, a loving family member, or a wise coach or mentor.  Seriously consider seeking counseling and/or additional treatment.  Avenue is a limited medical clinic and provider of early pregnancy services, not a provider of mental healthcare.  But we're here to be a part of your support system.  And we'd love to help you discover resources in your area that can play a role in strengthening your mental and emotional well-being.  A firm foundation of caring support can equip you to manage your depression and navigate your unexpected pregnancy with greater clarity.
A Well-Balanced Pregnancy Decision
Without a doubt, mental disorders like clinical depression can bring added challenges for persons pursuing parenting or going through the adoption process, making these already stressful experiences harder to cope with.  But all of this can be true for those who choose abortion as well.   Some individuals experience symptoms of post-abortion stress, including feelings of depression, whether or not a mental disorder diagnosis is part of their medical history.  So, maybe a better approach would involve viewing your pregnancy decision and your future through the lens of your strengths rather than your vulnerabilities.  Every person already holds, or can develop, the qualities that she needs to embrace her own best pregnancy outcome.  Consider your firmly held beliefs and values, your character strengths, and your gut instincts.  Which path are these pointing you toward?
How Can Avenue Women's Center Help?
Avenue is all about equipping persons to make informed, empowered, and thoughtfully considered pregnancy choices.  Our limited medical ultrasounds can provide accurate information about a pregnancy (like the gestational age and possibility of miscarriage).  Avenue's expert team is also available to explain the processes and risks involved with each of your pregnancy options, with a posture of compassion and respect. We believe that it's important for women to know where they stand and what possibilities lay before them prior to making a pregnancy decision.  Nobody should have to miss out on this opportunity due to limited financial resources, lack of insurance, or other barriers.  So, we provide our confidential early pregnancy services at no cost.
Narrowing in on your vulnerabilities and making a pregnancy decision from this point of view may lead to regret down the road.  You may be coping with clinical depression, and that may present some significant challenges, but it isn't too late to pause and reevaluate if you need to.  Avenue Women's Center can provide reliable information and caring support…no matter which way you're leaning.  We provide a safe and judgment-free space to process your next steps.
Reach out to speak with a team member and ask us your questions!  We're here to listen.
*If you are experiencing suicidal thoughts, call 911 or contact the 988 Suicide and Crisis Lifeline right away.
_______________
References:
Reviewed by Patricia Kuenzi, APN-CNP, MSN, ANP, PNP.
The information provided here is general in nature.  It is not a substitute for a consultation with a medical professional. Before any medical procedure, it is imperative that you discuss your personal medical history, risks, and concerns with your doctor. If you have questions during or after a procedure, your doctor should be immediately contacted. Avenue Women's Center is not an emergency center.  If you are experiencing severe symptoms, such as bleeding and/or pain, seek immediate medical attention.  Contact your physician, go to an emergency room, or call 911.