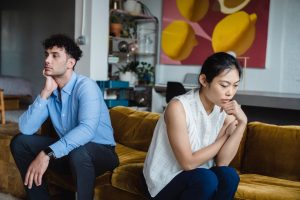 Kate stared down at the pregnancy test in shock.  How could the result be positive?  She and her husband Mark had been going through a rough patch in their marriage.  Maybe "rough patch" didn't adequately describe the dynamics that had developed in their relationship over the last several years.  Mark had grown emotionally distant.  Kate felt frustrated and overlooked all the time.  She had already started considering the possibility of leaving her marriage.  What was she to make of these alarming new circumstances?
Are you thinking about filing for divorce, while also coping with an unexpected pregnancy?  To say you have, "a lot on your plate" would be a huge understatement.  Maybe you're feeling confused, overwhelmed, scared, angry, devastated, and alone as you're reading this blog.  These can all be natural emotions for someone who's facing either of the situations you're wrestling with, let alone both of them at once.  But you don't have to navigate the days and weeks ahead on your own.  There's help and hope available.
Avenue Women's Center is an early pregnancy clinic that's dedicated to supporting women during the challenging season of an unexpected pregnancy.  We provide accurate information and ongoing encouragement to help persons struggling with circumstances like yours find their footing and discover their own best outcomes. 
Learn more about Avenue Women's Center!  We're located in Darien, Elmhurst, Glen Ellyn / Lombard, Naperville, West Chicago, and Wood Dale, Illinois.  We offer virtual consultations too!
Finding Clarity in the Complex
A person's reasons for considering a divorce are bound to be highly personal and probably complex.  Every set of circumstances is completely unique, so the fictional story of Kate and Mark may or may not remind you of your own relationship.  But a lot of emotional harm has likely taken place if you're thinking about leaving your spouse.  Your husband or soon-to-be ex-husband probably isn't someone you're wanting to parent beside right now.  That's understandable.  Still, it can be extremely helpful to seek reliable information about your pregnancy.  Doing so may clarify your best path forward and allow you to take informed next steps that support your physical and emotional health.  Clarity would probably feel pretty refreshing, especially if you're undecided about the future of your marriage and which pregnancy option(s) you're interested in pursuing.
How Can Avenue Help?
At Avenue Women's Center, your overall well-being is priority number one.  We believe that feeling equipped to make a well-informed, confident pregnancy decision contributes greatly to a woman's well-being during an unexpected pregnancy.  And we'd love to help you reach that outcome by providing first-step pregnancy support at no cost.  Here are some of the vital services we provide:
Pregnancy consultations. A consultation at Avenue is an opportunity to process your emotions with a caring consultant and talk about all the pregnancy options available to you (abortion, adoption, and parenting).  Each option includes a unique process that can be helpful to understand before you decide.  Each comes with its own set of potential risks and benefits.  Our expert staff is available to review all of this relevant, accurate information by your side.  We'd love to provide ongoing emotional support after your appointment too, if you're open to receiving follow-up communication from us.
Information on resources. Do you need assistance with housing, financial support, health care, or material items?  We're here to educate you on the resources offered within your community (there are many in Chicagoland!).  Avenue also provides referrals for services like sexually transmitted infection (STI) testing, paternity testing, and mental health counseling.  This last resource could play a key role in helping you begin your journey toward emotional healing.
Early Pregnancy Services. Our free, confidential services include lab-quality pregnancy tests, limited medical ultrasounds, options consultations, and more!  Knowing where you stand with this pregnancy will empower you to make knowledgeable choices going forward.
At Avenue Women's Center, we understand that the challenges you're facing are highly private and sensitive.  We respect your autonomy one-hundred percent, and we hope our services will empower you to fully explore all your pregnancy options…especially the one(s) you feel most drawn to.  Our expert staff is committed to creating a safe, confidential, judgment-free space for you to process your circumstances and next steps. 
Call, text, chat, or email to schedule an appointment today!
The information provided here is general in nature.  It is not a substitute for a consultation with a medical professional. Before any medical procedure, it is imperative that you discuss your personal medical history, risks, and concerns with your doctor. If you have questions during or after a procedure, your doctor should be immediately contacted. Avenue Women's Center is not an emergency center.  If you are experiencing severe symptoms, such as bleeding and/or pain, seek immediate medical attention.  Contact your physician, go to an emergency room, or call 911.