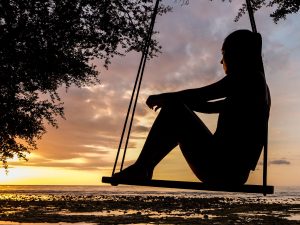 Throughout life we are constantly growing, changing, and learning. We tend to work hard to pursue our dreams and invest time, energy, and money into 'developing' ourselves. With the rise of influencers and social media, this pressure and drive to make something of ourselves seems to be increasing. Perhaps you find yourself running toward a goal—you want to look a certain way, attain a certain level of education, or even just get to a healthy, happy place in your life. But in the midst of the grind, you find yourself unexpectedly pregnant. What do you do when you're considering abortion because you need to work on yourself?
Feeling like you have no option but abortion can be stressful. As the pressures in your life seem to be mounting, where can you go first for help? At Avenue Women's Center, we love partnering with women facing unexpected pregnancies. Because we know this can be a difficult situation, our services are confidential and free. Receive services that will help you take your next step, all at no cost.
Don't let your news stop you from moving forward. Schedule an appointment with us today!
What Does 'Working on Myself' Look Like for You?
It may feel like this unexpected pregnancy has thrown a wrench in your plans to work on yourself. Pausing to process your situation can be beneficial. Take a step back to review your goals and plans and how you've done in achieving what you're after. Think about all you've accomplished so far and find peace in knowing you're further along than when you started. You may take some time to think about where some of your goals or habits need adjusting so you can thrive even more. And sometimes we need to adjust our daily grind when new circumstances pop up. But this doesn't have to be a bad thing!
Could Unexpected Pregnancy Inspire You?
Once in a while, a little shake-up can be beneficial to our routine. An unexpected circumstance, like pregnancy, can serve to strengthen us and help us think creatively about what we're after.
Now that you're currently pregnant, what are some ways you can continue working on yourself to become a better person? Whether you decide to go forward with abortion or with one of your other pregnancy options, your routine will change a bit. You may want to consider how each of your pregnancy options (abortion, adoption, or parenting) could help you reach your goal. How might these options help you grow into a better version of yourself?
It's a Good Thing to Include Others in Your Journey
With terms like 'self-starter' or 'boss babe' flying around our society, perhaps you feel the pressure to achieve all you desire on your own. Maybe you think asking for help or support is cheating or means you're not strong. This isn't the case at all. Every single person needs support or assistance of some kind at some point in their life. To be able to reach out for help makes us stronger in the long run. While depending on others can be difficult and maybe a little bit scary, it can also be extremely rewarding. Finding close, trustworthy friends or family to support you at this time can be a relief. So can reaching out for community, religious, or government assistance to help you be healthy, safe, and thrive.
At Avenue Women's Center, our caring pregnancy consultants would love to equip you to go forward with courage. We can offer limited medical services for the first steps of pregnancy as well as referrals to strengthen you on your journey. Our offices are private, confidential, and comfortable to give you the space and time to process your next steps.
You can contact us or self-schedule your first consultation!
The information provided here is general in nature.  It is not a substitute for a consultation with a medical professional. Before any medical procedure, it is imperative that you discuss your personal medical history, risks, and concerns with your doctor. If you have questions during or after a procedure, your doctor should be immediately contacted. Avenue Women's Center is not an emergency center.  If you are experiencing severe symptoms, such as bleeding and/or pain, seek immediate medical attention.  Contact your physician, go to an emergency room, or call 911.