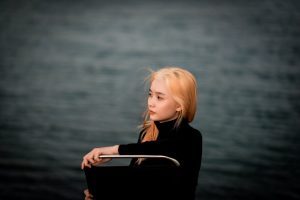 When faced with an unexpected pregnancy, many women fear that one (or two, or three) of their pregnancy options could lead to feelings of regret.  Have you ever said or done something that you felt sorry about later on?  We all have, so we all know how unpleasant regret can feel, and we all hope to avoid it!  But what if you've met a really significant challenge, like an unexpected pregnancy?  It may be tough to predict how you'll feel about your chosen path in the long run.  Fortunately, you don't have to face the unknown on your own.
Are you considering abortion because you believe you'd regret a decision to parent?  Your concerns are shared by many women experiencing an unexpected pregnancy.  At Avenue Women's Center, we care deeply for your health and well-being.  It's our mission to meet your needs in the earliest days of this pregnancy and beyond, so you feel empowered to step into your best future. 
Learn more about our free and confidential first-step pregnancy services!
There's a Reason You're Uneasy.  Consider Exploring This Further
If you think you'd regret any of your pregnancy options (abortion, adoption, or parenting), it may be helpful to ask yourself where these feelings are coming from.  Your misgivings about parenting probably have a source.  Are you worried about finances?  Already feeling overwhelmed by present responsibilities?  Discouraged by a lack of partner or family support?  Concerns like these are completely valid.  But odds are, no pregnancy option is going to be worry-free.  When you set your fear of regret aside, is parenting an option that you're actually drawn to?  If so, maybe there's a resource or means of support that could ease your anxiety.  Consider your values and feelings (including but not limited to your fear of regret).  Our caring pregnancy consultants at Avenue are here to listen.  If you're looking for reliable information on abortion or another pregnancy option, we can help.  Need emotional support or want to learn about your community resources?  Reach out to us!
A Dependable Ally is Worth Their Weight in Gold
Seeking support from someone trustworthy may be an important part of your decision-making process.  Look for an ally with an impartial but caring point of view and excellent listening skills.  A mental health counselor, faith leader, or someone like a pregnancy consultant may be a good fit.  Sometimes, expressing yourself within the bounds of a trusted relationship can offer much-needed insight (even if you're doing most of the talking)!  Another person can also offer encouragement, a fresh perspective, and a sense of community- all difficult to obtain when you're trying to process an important decision on your own.
Adoption: Your Third Pregnancy Option
Women and couples sometimes feel uncomfortable with the idea of creating an adoption plan.  However, the adoption process has changed significantly over the years, and now allows the birth parents to have a lot of autonomy.  For example, a birth mother may choose the adoptive parents and select any kind of adoption she'd prefer (open, semi-open, or closed).  Adoption isn't for everyone, but it has become an empowering option that may be worth a closer look.  If you're interested in exploring adoption further, an Avenue pregnancy consultant can help.
Each of your options (abortion, adoption, and parenting) is going to come with its own unique set of challenges.  The decision is not an easy one, but we're here for you each step of the way.  At Avenue Women's Center, we believe in equipping women to overcome their obstacles through education, resources, and support.  You've got this!  And we've got your back, regardless of where your journey leads.
Schedule an appointment at any of our six Chicagoland, Illinois locations.  Or speak with a pregnancy consultant by phone!
The information provided here is general in nature.  It is not a substitute for a consultation with a medical professional. Before any medical procedure, it is imperative that you discuss your personal medical history, risks, and concerns with your doctor. If you have questions during or after a procedure, your doctor should be immediately contacted. Avenue Women's Center is not an emergency center.  If you are experiencing severe symptoms, such as bleeding and/or pain, seek immediate medical attention.  Contact your physician, go to an emergency room, or call 911.