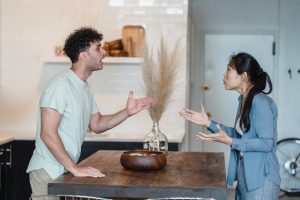 Being in a relationship can be challenging. Sometimes the person we're with might bring us pain or even harm. Maybe you've been thinking about leaving your partner for a while and you finally have the courage to go through with it. And then the unthinkable happened: a positive pregnancy test. Perhaps your immediate reaction is to get an abortion so you can cut ties with your partner. Yet maybe you're wondering if this is the right choice. What do you do when unexpectedly pregnant but want to get an abortion?
If you're considering abortion because you want to cut ties with your partner, Avenue Women's Center is here for you. We know that this unexpected pregnancy might make your life and your decisions a bit more difficult. We'd love to be here for you during this time and offer you any resources or information that we can to make your path smoother.
Schedule a consultation with our expert and caring staff today!
Processing Your Next Steps
Discovering you're pregnant by somebody you don't want to be with might be distressing. You may have reacted in a variety of ways or felt some strong emotions. Perhaps your gut reaction is to get an abortion. It's possible you think that if you go through with this pregnancy you won't be able to cut ties with your partner. When faced with an important decision it's important to take time to consider all of the information and options before you.
Things To Consider Beyond Your Gut Reaction
While it can be tempting to block out other information or options when we're fairly set on our path, it can be crucial to keep an open mindset. When faced with a pregnancy decision it's important to make the best and healthiest choice.
A good first step would be to confirm your pregnancy. Avenue Women's Center offers free medical-grade pregnancy tests which are accurate just ten days after conception. Making sure you're pregnant will help you determine your next steps.
Knowing about your abortion options is helpful. Depending on how far along you are, your options vary as do the procedures to get them done. Avenue also offers limited ultrasound exams to help determine your pregnancy age and early pregnancy risks such as miscarriage or ectopic pregnancy.
Evaluating Your Self-Talk
When we repeat the same thing to ourselves, again and again, there's usually no room for other perspectives or ideas. You may find it a helpful exercise to take some time and slow down. Think about your situation and what's prompting you to think or act in the ways you are. Are they external pressures or internal?
Have you thought once about your other options of adoption or parenting? What might each of these options look like? Is it possible to choose either of these and have limited involvement with your current partner?
You may find it helpful to reach out to a trusted friend or family member who can help you come up with an action plan for each decision. Feeling like you have support can be so relieving when moving forward.
Gathering information and taking the time to think through your options can be reassuring. If you're considering abortion so you can cut ties with your current partner, we invite you to make an appointment with us! We provide limited medical services and confidential consultations to help you plan your next steps.
Contact us to schedule a pregnancy test and consultation!
The information provided here is general in nature.  It is not a substitute for a consultation with a medical professional. Before any medical procedure, it is imperative that you discuss your personal medical history, risks, and concerns with your doctor. If you have questions during or after a procedure, your doctor should be immediately contacted. Avenue Women's Center is not an emergency center.  If you are experiencing severe symptoms, such as bleeding and/or pain, seek immediate medical attention.  Contact your physician, go to an emergency room, or call 911.