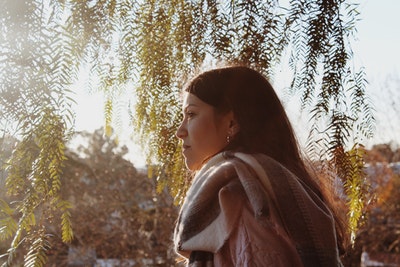 There are several reasons women consider abortion make a decision in an unexpected pregnancy situation. Practical, physical, emotional, or health concerns are common. But what if you're worried about a more personal conflict? What if you're considering abortion because you don't think you would be a good parent? How can you address your concern and move forward in a decision about abortion?
Weighing your pregnancy options on your own can be difficult. Come into Avenue Women's Center for supportive help as you decide. Our free options consultations will offer the accurate and reliable information you need to move forward in your pregnancy decision. Learn more about the options parenting, adoption, and abortion from experts who care about supporting you with understanding and compassion. Call, text, chat, or email for your free appointment today!
I Won't Be a Good Parent
"I can barely take care of myself. How could I possibly be a good parent?" There can be a lot of times in life when you don't feel like you're doing that well. You're having difficulty finding reliable income, or your current position doesn't pay much. Maybe you're working more than one job just to provide for yourself. Many women consider abortion due to financial hardships, feeling like they're barely making it on their own. How could you possibly provide as a parent?
For some women, the concern is more about their individual abilities. "Could I handle being a parent?" You might be struggling to juggle your own life's demands and schedules. You feel like you're full to the brim of what you can handle emotionally and mentally.
Self-doubt and circumstantial concerns run rampant in your mind as you think about the possibility of parenting. All of these feelings seem to point towards the option of abortion. What can you do to move forward and make your best pregnancy decision?
Learning More Before You Decide
If your uncertainty only grows as you try to decide, take some comfort in knowing you aren't alone. Many women wonder if they'll be a good parent, regardless of the circumstances of their pregnancy. Being a "successful" parent looks different for every individual. Before moving forward in a pregnancy decision, take some time to fully consider your feelings. Learning more about abortion, adoption, and parenting can also be helpful as you decide which option is best for you.
Parenting. What is creating the feeling that you won't be a good parent? Are certain personal experiences having an impact? Is it due to the current circumstances you are facing now? Take a step back and think through some of the factors leading up to this feeling. If obstacles were removed, what pregnancy option would you be leaning towards? What kind of parenting support systems exist in your area? Are there local resources available? Are there parenting classes or educational sources you could look into?
Adoption. Have you ever considered adoption as an alternative to parenting? Do you know about open versus closed adoption plans, and all the choices available to you? Have you reached out with any questions to local adoption agencies? Would adoption be a feasible solution to address your concerns regarding parenting?
Abortion. What information about abortion would be helpful to know as you decide? What are the potential risks involved? How far along is your pregnancy, and how does it affect your abortion options? What are the physical side effects following an abortion? Do they differ with each type of abortion procedure? How might you feel emotionally after an abortion?
Begin exploring your answers to important questions like these and more at Avenue Women's Center! We provide women with compassionate and nonjudgmental support as they take their first steps in a pregnancy decision. Our free consultations are an opportunity to address your unique concerns with an expert client advocate in a confidential and private setting. Learn more about each of your pregnancy options. We are here with supportive information you as you decide what's best for you! Contact us today for your appointment at any of our six DuPage County locations!
The information provided here is general in nature.  It is not a substitute for a consultation with a medical professional. Before any medical procedure, it is imperative that you discuss your personal medical history, risks, and concerns with your doctor. If you have questions during or after a procedure, your doctor should be immediately contacted. Avenue Women's Center is not an emergency center.  If you are experiencing severe symptoms, such as bleeding and/or pain, seek immediate medical attention.  Contact your physician, go to an emergency room, or call 911.