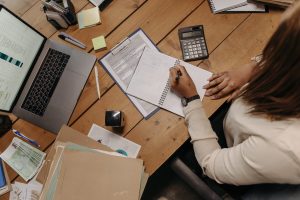 Soaring gas prices.  Higher grocery bills.  Painfully expensive car repairs.  There's no doubt about it: We're living in financially difficult times!  Seemingly everyone has been touched by high inflation in recent weeks and months.  If you're currently navigating an unexpected pregnancy, you may be experiencing particularly high levels of financial anxiety.  Perhaps you're worried about health care costs.  Maybe you're considering parenting, but this seems impossible because you can barely make ends meet.  You're definitely not alone!  There's help and support available just around the corner.
Avenue Women's Center is a first-step limited medical clinic that provides free and confidential medical-grade pregnancy tests, limited medical ultrasounds, pregnancy consultations, and more.  When you visit one of our centers in Chicagoland, Illinois, you'll have an opportunity to meet with a compassionate team member who will help you process your unique situation and get connected with resources in your area. 
Reach out to learn more about Avenue!  We've been partnering with women and couples since 1981, and we can be a source of support to you too!
Understanding Inflation
Merriam-Webster defines economic inflation as, "a continuing rise in the general price level usually attributed to an increase in the volume of money and credit relative to available goods and services."  In other words, there is a relationship between your money and the goods that you pay for.  When inflation occurs, prices rise and your money doesn't go as far as it once did.  It becomes more expensive to purchase the same products.  The economy is ever-changing, which means that inflation can be unpredictable and temporary.  However, adjusting to inflation in the present moment can feel very challenging, especially when your budget is tight and the future of the economy is unclear.
Inflation Doesn't Have to Control Your Pregnancy Decision
Fortunately, there is help and hope available!  At Avenue, all our services are free and no insurance coverage is required because we believe that early pregnancy services should be accessible to everyone.  When you visit one of our limited medical clinics, you'll have an opportunity to receive valuable information about your pregnancy and options, equipping you to make an informed pregnancy decision.  Additionally, we can provide referrals and information on resources in your area.  These resources may include doctors and health centers, free infant care products (if eligible), social support opportunities, and more.  Our mission is to empower you with knowledge, support, and practical tools so you feel equipped to make your best pregnancy decision despite any financial challenges.
If you're struggling to navigate an unexpected pregnancy, Avenue Women's Center has your back!  We understand the financial pressure you're under.  We're here to listen to your story and equip you take your next steps with confidence.  Our caring, nonjudgmental team members are available to walk this road alongside you. 
Schedule an appointment at a Chicagoland, Illinois location near you!
_______________
References:
The information provided here is general in nature.  It is not a substitute for a consultation with a medical professional. Before any medical procedure, it is imperative that you discuss your personal medical history, risks, and concerns with your doctor. If you have questions during or after a procedure, your doctor should be immediately contacted. Avenue Women's Center is not an emergency center.  If you are experiencing severe symptoms, such as bleeding and/or pain, seek immediate medical attention.  Contact your physician, go to an emergency room, or call 911.