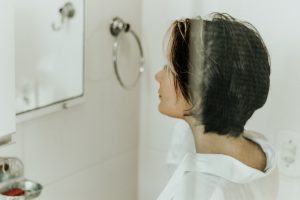 The American Psychological Association defines trauma as, "an emotional response to a terrible event like an accident, rape, or natural disaster."  These are just a few examples.  Trauma can emerge from all kinds of difficult situations.  Perhaps you're trying to manage an unexpected pregnancy when your family is already struggling to cope with emotional pain triggered by something else.  You're concerned that continuing this pregnancy would make your family's overall circumstances go from bad to worse.  So, you're considering abortion intending to avoid any further distress the pregnancy may cause for you and your loved ones.
If this scenario resonates with you, you're probably someone who cares deeply about her family members, and doesn't want to place undue burdens on their shoulders.  However, your pregnancy decision affects you more than members of your family.  A great next step is to gather more information to be better equipped to make a decision you feel confident about.  At Avenue Women's Center, it's our role to help you in this process by offering important services, along with practical and emotional support at no cost.
Learn more about Avenue!  Our free, confidential early pregnancy services include medical-grade pregnancy tests, limited medical ultrasounds, options consultations, and more!
Every Response to an Abortion is Unique
The truth is, every person responds differently to having an abortion.  Choosing this path doesn't always mean resolving emotional pain or reducing stress.  Some women who decide to end a pregnancy report feeling relieved and moving on with their lives afterward.  Others report experiencing symptoms of post-abortion stress (like anxiety, grief, or regret).  Taking some time to explore your feelings about abortion and reflect on how you might respond is key.  Most women have weeks to consider this before becoming ineligible for some of their pregnancy options.
Impacts on Family
Of course, your decision for abortion, adoption, or parenting is bound to impact you more deeply than anyone else.  But an unexpected pregnancy is one of those private experiences that has the potential to influence those closest to you as well.  Maybe the traumatic situation your family is dealing with is similar in the sense that it's primarily impacting one member, but the ripple effects are felt by the group because the emotional pain is significant and the relationships are closely woven together.  Your family will likely be touched by your pregnancy choice, whatever it may be.  Does this mean that whatever you believe your family wants or needs should be the main motivation behind your pregnancy decision?  No.  It's better to focus on the path you feel most drawn to. Perhaps whichever way forward is best for you will end up being best for your family as well.
How Can Avenue Help You Discover Your Best Outcome?
So, how does a person figure out which pregnancy option is right for her?  She bases her decision on internal influences (like her values, beliefs, desires, and instincts), in addition to reliable facts.  If you're experiencing an unexpected pregnancy, those internal influences can only come from you– needless to say.  Avenue Women's Center provides a safe space, a listening ear, and caring support to help you process them.  Our expert team's second goal is to meet your needs concerning the other component- reliable facts.  We offer high-quality early pregnancy services at no cost.  These services are designed to equip you for an informed pregnancy choice by allowing you to learn about the viability of your pregnancy and other potential factors relating to your health and safety.  Our pregnancy consultations present an opportunity to receive accurate information on all the options and resources available to you.
Is your family going through a really difficult season as you struggle to make a pregnancy decision?  Avenue Women's Center has been serving persons coping with circumstances like yours since 1981.  We understand what a challenging time this is for you and your loved ones, and we're here to provide genuine, compassionate care.  Our expert staff can help you connect with resources that could make a world of difference as you navigate this unexpected pregnancy. 
Call, text, chat, or email to connect with us!  We're here to answer your questions and provide the tools you need to move in a positive direction, one step at a time.
_______________
Reference:
American Psychological Association (APA).  (2022, August).  Trauma.  Retrieved from: https://www.apa.org/topics/trauma
The information provided here is general in nature.  It is not a substitute for a consultation with a medical professional. Before any medical procedure, it is imperative that you discuss your personal medical history, risks, and concerns with your doctor. If you have questions during or after a procedure, your doctor should be immediately contacted. Avenue Women's Center is not an emergency center.  If you are experiencing severe symptoms, such as bleeding and/or pain, seek immediate medical attention.  Contact your physician, go to an emergency room, or call 911.