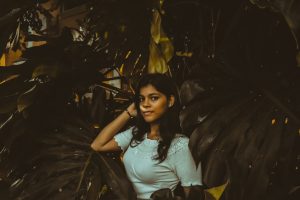 Let's be honest- being judged by peers feels awful 100% of the time.  An unexpected pregnancy is one situation that tends to bring out especially critical responses from others.  Maybe you're a young person coping with these circumstances, and you're considering abortion because you're afraid your friends would look down on you for carrying to term or becoming a parent.  Perhaps you've been around the block for a while.  After all, peers don't necessarily become less judgmental as we grow up.  It probably feels like your self-confidence is being threatened no matter what stage of life you're in.  But you're strong and capable of finding your own way, no matter what your peers think or say.
Are you encountering judgment face-to-face or on social media because you're coping with an unexpected pregnancy?  Maybe the people in your circle haven't realized you're pregnant just yet.  But you know them, and you've seen how they've reacted to situations like yours.  You may be hoping to avoid judgment by ending the pregnancy before anyone finds out.  You're confronting some challenging and probably very scary circumstances.  Avenue Women's Center is here to help you navigate your next steps with your head held high, and discover an outcome you feel good about, no matter the difficulties that lay in your path.
Learn more "About" Avenue and our free, confidential early pregnancy services!
Why Is it So Easy to Judge?
Generally, it isn't anyone's place to judge a peer for something that doesn't involve them.  But judgment is an easy trap to fall into, for both the offender and the recipient.  We've all judged someone at some point in our lives, in our own minds or out loud.  People are analytical by nature.  Critical thinking is a good quality when it's balanced by empathy.  Casting judgment on someone in a way that belittles them, on the other hand, is wrong- but sometimes instinctive.  When we're condemning others, we're shifting scrutiny and blame away from ourselves, which can bring a sense of relief.  That doesn't make judging others okay.  Each of us has a personal responsibility to catch ourselves doing this and respond to the people around us with compassion.
Coping with Judgment as You Face this Pregnancy Decision
I think we can all agree that it's really unpleasant to be on the receiving end of judgment, no matter how fair or unfair it may seem.  Most of us are easily influenced by other people's opinions.  However, it's really important not to let your pregnancy decision be dictated by somebody else's flawed perspective.  Closely examine your own values, beliefs, drives, and instincts.  Which of your pregnancy options (abortion, adoption, or parenting) are these key components of who you are compelling you toward?  Hold your head up high and explore that possibility (or those possibilities) further.
While you're sorting this out, gather more information about your pregnancy, your options, and available resources.  Our no-cost early pregnancy services at Avenue are intended to help you gain a clearer outlook on where you stand and empower you to make an informed decision.  We hope that these practical services, along with caring support from our team members and others, will increase your confidence.  And if you feel confident in the path you're pursuing for this pregnancy, it will show!  Your self-assurance will be evident in your attitude, your body language, and the way you talk about your pregnancy and the option(s) you're considering.  Maybe this will remind your peers that you're a resilient person who's capable of finding her best way forward.  And it isn't their place to judge you.  Maybe some of the people in your life will even respect your courage and resolve.
Avenue Women's Center – A No-Judgment Zone
Withstanding criticism from others may be a difficult part of your pregnancy journey.  It may involve accepting the reality of other peoples' feelings and opinions, and moving toward your best outcome despite the cost.  But you've got this!  And chances are, you'll look back on your pregnancy decision with greater clarity and contentment, maybe even gratitude, having stood up for your own convictions.  Our expert staff at Avenue Women's Center is here to support you every step of the way.  We're available to meet your needs with compassion, never judgment, and help you connect with other non-judgmental people who care.
Contact us to schedule an appointment at one of our six limited medical clinics in Chicagoland, Illinois!  We accept walk-ins and provide virtual consultations too!
The information provided here is general in nature.  It is not a substitute for a consultation with a medical professional. Before any medical procedure, it is imperative that you discuss your personal medical history, risks, and concerns with your doctor. If you have questions during or after a procedure, your doctor should be immediately contacted. Avenue Women's Center is not an emergency center.  If you are experiencing severe symptoms, such as bleeding and/or pain, seek immediate medical attention.  Contact your physician, go to an emergency room, or call 911.