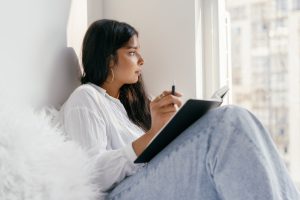 If you're coping with an unexpected pregnancy today, you may or may not be the first person in your family to experience something like this.  Perhaps your mom went through a similar season of life.  Maybe she made other decisions that steered her toward financial stress, relationship troubles, or other painful life challenges.  Are you afraid that continuing this pregnancy would lead you down a similar path?  We all hope to avoid the negative outcomes our loved ones have faced, but some key factors may be helpful to consider as you navigate your own pregnancy journey.  We'll touch on a few of them in this blog!
Avenue Women's Center is a first-step pregnancy center offering free early pregnancy services, including medical-grade pregnancy tests, viability ultrasounds, options consultations, and more!  It's our goal to equip you with the facts you need to make an informed, empowered pregnancy decision.  All are welcome to visit our six limited medical clinics in Chicagoland, Illinois.
Reach out to have a pressure-free conversation with an expert team member and learn more!
Your Story is Your Own
It's wise to learn from life choices made by your parents and others who've come before you.  There's value in understanding these experiences and perhaps doing things differently.  Still, it's important to recognize that the things we go through in life usually stem from a complex variety of factors.  Your mom's experiences have resulted from decisions she's made and influences beyond her control.  Her story is her own!  It's been shaped by her unique character, individual circumstances, and fate.  Your life path is also one-of-a-kind.  Be cautious about reaching conclusions concerning your future based on someone else's experience, even when that someone is a close family member.
It's okay to have your own beliefs surrounding your parents' decisions and how those choices have impacted their lives.  But it wouldn't be sensible to give speculation too much weight.  It's hard to say if picking a different pregnancy option would have been better for your mom, and impossible to prove, as with any past decision.  Maybe a healthier approach would involve accepting the past and directing your focus to the present.  How can you support your mom and your family today, given the way events have unfolded?  How can you figure out your best way forward regarding this unexpected pregnancy?
So, How Can You Find Your Own Best Path?
Discovering the "best" pregnancy outcome (abortion, adoption, or parenting) is a unique experience for every person.  But there are practical steps anyone managing an unexpected pregnancy can take to seek clarity.
Learn about your pregnancy.
No two pregnancies are the same.  Consider getting an ultrasound to gather valuable information, like 1) where your pregnancy is located in your body, 2) how far along you are, and 3) your chances of the pregnancy ending on its own.  This information will equip you to continue your pregnancy journey with knowledge of risk factors concerning your own health and safety.  Avenue Women's Center is a limited medical clinic that provides limited medical ultrasounds at no cost.  It may also be beneficial to speak with a doctor before moving forward with abortion or another pregnancy option.
Learn about your options and resources.
It never hurts to understand all the possibilities.  Keep in mind, the options and resources available to you will look different than the options and resources that were available to your mom if she went through an unexpected pregnancy years ago.  Our pregnancy consultants at Avenue can offer reliable, up-to-date information to help you form a pregnancy plan you feel confident in.
Talk to someone.
If you have a trusting relationship with your mom, it may be helpful to have a conversation about her unexpected pregnancy experience.  Again, you have your own unique pregnancy story.  This pregnancy decision needs to be sourced by you (based on your beliefs, values, and instincts).  But your mom may be able to offer insight that you haven't yet considered, as someone who's faced similar circumstances.  It can be beneficial to speak with someone who simply cares, regardless of her personal experiences, like a mentor, counselor, or faith leader.  Our compassionate pregnancy consultants and nurses at Avenue Women's Center are available to provide ongoing emotional support as well, no matter what decision you reach.
For many women, considering pregnancy options and identifying a way forward is an overwhelming process.  But most have time to explore and process before their options become more limited.  Avenue Women's Center is here for you every step of the way.  It's our role to provide accurate information and caring support to help you decide.  No pressure.  No judgment.  Just compassionate, confidential care. 
Check out our "About Us" page!  Schedule an appointment today!
The information provided here is general in nature.  It is not a substitute for a consultation with a medical professional. Before any medical procedure, it is imperative that you discuss your personal medical history, risks, and concerns with your doctor. If you have questions during or after a procedure, your doctor should be immediately contacted. Avenue Women's Center is not an emergency center.  If you are experiencing severe symptoms, such as bleeding and/or pain, seek immediate medical attention.  Contact your physician, go to an emergency room, or call 911.