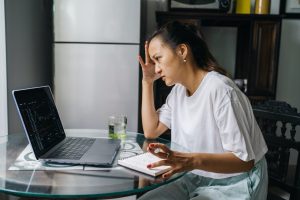 Have you ever faced an important decision during a season of life when you felt least prepared for this task?  Choices like whether to end an unexpected pregnancy or continue it, whether to parent or create an adoption plan, matter a lot.  That's why it's important to consider your options with care.  A thoughtful, confident pregnancy decision requires reliable information and a clear head… two things that may feel out of reach for someone who's just experienced the shock of an unexpected pregnancy.  Do you feel forced toward a decision you're completely unready for?  If the answer is yes, know that help and hope are available.
At Avenue Women's Center, it's our goal to help people obtain the information, resources, and support they need to thrive while navigating an unexpected pregnancy.  If you're struggling to sort through your pregnancy options in the middle of chaotic circumstances, you're not alone.  It is possible to make sense of your situation and explore your own best outcome from a position of strength.
Learn more about our free, confidential early pregnancy services!  Avenue offers lab-quality pregnancy tests, options consultations, and more!
Chances Are, Time is On Your Side
It's normal to feel panicked when an unexpected pregnancy is confirmed.  That's partly because this situation usually involves so many unknown variables.  When a woman reads a positive pregnancy result for the first time, she doesn't know how far along she is and doesn't have information about the status of her pregnancy.  Most likely, her knowledge of available options and resources is limited.  Many people assume they have very little time to consider their pregnancy options because they're under intense stress, and they don't know what their timetable looks like.  If abortion is one option that you're thinking about, you may feel a bit relieved to learn that the abortion pill is FDA-approved up to ten weeks, and other abortion methods are available beyond that point.  It's common for a woman to first miss her period around week four (depending on her average cycle length), although there are always exceptions.  So, most people have weeks to ask questions and explore alternatives before an abortion is no longer an available option.
Taking Practical Steps Toward Empowerment
There are many practical steps you can take to reach a calmer mental space and get clarity after getting a positive pregnancy result and before making a pregnancy decision.  Here are just a few of them!
Schedule an ultrasound.
A scan may provide several key pieces of information to help clarify your next steps.  Some doctor's offices, medical clinics, and pregnancy centers may offer ultrasound exams.  Avenue Women's Center also provides limited medical ultrasounds for free.  An ultrasound can tell you 1) how far along you are (which may shed light on your pregnancy options), 2) your chances of miscarriage (the pregnancy ending on its own), and 3) where the pregnancy is located (an ectopic pregnancy- which is located outside the uterus- is important to be aware of because it may pose a serious health risk).  Understanding what's going on in your body is essential to safeguarding your own health and continuing your decision-making process with an informed point of view.
Have a pregnancy consultation.
Avenue offers these virtually and in-person.  They're free and completely confidential!  There are many things that may be beneficial to talk about during a pregnancy consultation.  Many women find it helpful to process through their circumstances and receive emotional support.  A pregnancy consultant can provide reliable information on all your pregnancy options and help you find answers to your questions.  She can also offer information on resources in your area.  Our consultants at Avenue are available to keep in touch after the appointment, and can be an ongoing source of emotional support no matter what pregnancy decision you make.
Build a healthy support system.
Every support network looks a little different.  Our team at Avenue would love to help you strengthen and expand yours, while playing a role in it.  Most women feel far better equipped to lean into their best pregnancy option when they know they have caring people in their corner.
It's natural to feel stressed and overwhelmed after discovering an unexpected pregnancy.  But every person facing circumstances like yours is fully capable of finding her best path with courage and confidence.  Avenue is here to help you achieve this!  We provide quality, no-cost services with compassion and professionalism.  Avenue Women's Center offers a calm, comfortable environment to take a deep breath and begin moving toward a positive outcome.
Schedule an appointment today!  We have six limited medical clinics located in Chicagoland, Illinois!
The information provided here is general in nature.  It is not a substitute for a consultation with a medical professional. Before any medical procedure, it is imperative that you discuss your personal medical history, risks, and concerns with your doctor. If you have questions during or after a procedure, your doctor should be immediately contacted. Avenue Women's Center is not an emergency center.  If you are experiencing severe symptoms, such as bleeding and/or pain, seek immediate medical attention.  Contact your physician, go to an emergency room, or call 911.