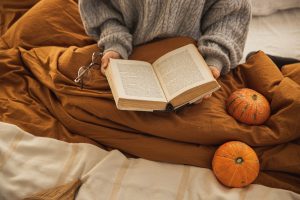 'Tis the season for cooler temps, pumpkin spice lattes, gorgeous autumn colors, and apple cider donuts.  What's not to love about fall!?  Maybe these are seasonal highlights you've enjoyed year after year…  Only, this September or October, putting on your favorite fall jacket and lace-up boots for some cool-weather fun hasn't felt as exciting as it normally would.  Maybe you're too concerned with other matters to care very much about your usual autumn adventures.  Maybe you're facing an unexpected pregnancy, and you're thinking about getting an abortion.
There's nothing easy about managing an unexpected pregnancy and trying to discover your own best outcome.  Your circumstances may seem overwhelming, and you may feel an urge to find a resolution as soon as possible.  Still, a thoughtful pregnancy decision will probably require some research and careful contemplation.  Know that practical assistance and emotional support are available to you!  Avenue Women's Center is here to help you make an informed pregnancy choice with confidence.
Avenue is a first-step pregnancy clinic with six locations in Chicagoland, Illinois.  Reach out to learn more about us and inquire about our free early pregnancy services!
Time Marches On.  That Doesn't Mean You Have to Rush Your Decision.
The changing of the seasons is a constant reminder that time is always moving forward.  That may be an especially obvious truth for those of us who live in regions like the Midwest, where we experience four distinct seasons.  Sometimes, the passage of time can bring comfort.  It can help us appreciate the present moment and the unique joys it has to offer.  But if you're struggling with an unexpected pregnancy, you may feel as though time is both your enemy and your most precious resource- which is gradually slipping away.  If this strikes a chord, maybe it's time to pause and take a deep breath.  Most women have weeks to process and plan their next steps before some of their pregnancy options are no longer available.  But because your time to consider this choice is limited, it's important to learn about your unique timeline and make good use of the days ahead.
3 Key Pieces of Information to Consider Before Getting an Abortion
Many steps can be taken to find clarity between the discovery of an unexpected pregnancy and the carrying out of a pregnancy decision.  Even if you're confident that abortion is your best way forward, it never hurts to know where you stand and what your options involve.  Seeking accurate information will allow you to make the most knowledgeable pregnancy choice possible and look back on this experience knowing that you had all the relevant facts.  Consider getting answers to these key questions before moving forward with any of your pregnancy options (abortion, adoption, or parenting).
What is the status of my pregnancy?
How far along am I?  The gestational age will influence which abortion method(s) you're eligible for.  Is my pregnancy likely to end in a miscarriage?  If it is, you may not have to go through (and pay for) the abortion process.  Where is my pregnancy located?  If you're experiencing an ectopic pregnancy  (a pregnancy located outside of the uterus) you'll need immediate medical attention apart from an abortion.  Avenue Women's Center can help you access all this information by providing a free limited medical ultrasound.  Excluding any outlying factors, all your pregnancy options may still be available to you (based on the gestational age) when our licensed medical professionals are first able to attain a clear scan.
What are my options, and what do they involve?
Abortion, adoption, and parenting all come with unique risks and benefits.  Abortion and birth are both medical processes that carry potential implications for your health.  So, it's wise to learn the ins and outs of whichever alternative you're leaning toward (and perhaps those you're less interested in too) before following through.  Doing so will equip you to make a health-conscious decision.  Our expert staff at Avenue is available to provide accurate information on all your pregnancy options.  We're also here to be a sounding board and ongoing source of emotional support as you process which choice is right for you.
What resources are available to me?
Many communities offer a broad range of free or low-cost services to help community members thrive.  Do you need financial support, housing assistance, or affordable health care?  Services like these may be available to you!  Avenue Women's Center staff can provide information on a variety of resources that you may be eligible for.  Everyone needs some extra support from time to time.  We believe that asking for help takes courage, and is never something to feel embarrassed about.
Avenue Women's Center is a judgment-free zone.  No matter which pregnancy option(s) you're considering, it's our role to listen, inform, and support.  This pregnancy decision is yours to make, needless to say.  But we're on a mission to ensure that women have access to the information needed to make a confident choice.
Schedule an appointment today!  Our limited medical clinics are located in Darien, Elmhurst, Glen Ellyn / Lombard, Naperville, West Chicago, and Wood Dale, Illinois!
The information provided here is general in nature.  It is not a substitute for a consultation with a medical professional. Before any medical procedure, it is imperative that you discuss your personal medical history, risks, and concerns with your doctor. If you have questions during or after a procedure, your doctor should be immediately contacted. Avenue Women's Center is not an emergency center.  If you are experiencing severe symptoms, such as bleeding and/or pain, seek immediate medical attention.  Contact your physician, go to an emergency room, or call 911.