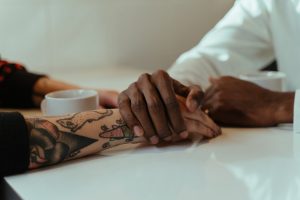 It would probably be safe to say that every woman who's experienced an unexpected pregnancy has wrestled with some form of fear surrounding these circumstances.  Common concerns may include fear of future outcomes (whether she chooses abortion, adoption, or parenting), fear of how others might react to the pregnancy, and fear of making "the wrong choice."  Anxiety is unavoidable.  That's why it's important to practice healthy coping methods, whether you're facing an unexpected pregnancy or another stressful situation.  If you're going through an unexpected pregnancy, learning to cope well with fear may help you navigate the days and weeks ahead.  It may even equip you to make a pregnancy decision you feel better about.
Everyone deals with fear, even the most courageous people throughout history.  Courage is walking through a storm even though it's frightening, trusting you'll come out on the other side.  You can cope with this unexpected pregnancy.  You have what it takes.  Our expert staff at Avenue Women's Center is here to encourage you along the way.  We're an early pregnancy center, committed to helping women access the information, resources, and emotional support they need to journey on with courage.
Learn more about Avenue Women's Center!  We've been serving women and couples in Chicagoland, Illinois and beyond for over forty years!
Fear and Decision-Making
Fear is, of course, a built-in human emotion that's there for a reason.  It's a necessary instinct that helps people avoid pain.  But, as you probably realized early in life, it's also a complex thing that can easily spin out of control and become a barrier to your decision-making process.  Maybe fear about this unexpected pregnancy is carrying your thoughts to some dark, difficult places.  It's okay to sit in that for a moment, but don't get stuck there. Fear can be harnessed to inform your decision-making rather than hinder it.  Use your anxiety to process through all your alternatives and possible solutions.  And be sure to bear in mind all your supports (like resources, caring people in your life, and personal strengths).  Be patient with yourself.  For many women, a well-made pregnancy decision takes time and careful consideration.
Strategies to Manage Your Fear
Here are some practical strategies Psychology Today recommends to keep your anxiety under control.
Maintain a structured, well-balanced routine. A chaotic, disorganized schedule can easily impact a person's mental health.  Introducing more structure to your routine may ease some anxiety, whether you're struggling to manage daily tasks or tasks related to the pregnancy.  This may involve setting boundaries (for yourself and others) and focusing on your highest priorities.
Be aware of your fear. It's hard to effectively manage anxiety when you're not taking notice of it.  Try to identify where your fears relating to this pregnancy are coming from.
Breath deeply. Deep, rhythmic breathing really can reduce physical feelings of tension.  Other sensations, like tensing and relaxing your muscles, may have a similar effect.
Resolve what's troubling you. As uncomfortable as your feelings about this pregnancy may be, don't push them aside.  Trying to avoid your fear won't make it go away.  It's important to seek a resolution by gathering reliable information and carefully considering your next moves.  This is likely going to be a multi-step process, and that's okay.
Practice acceptance. We all lose focus and make mistakes from time to time.  Accepting these missteps for what they are and simply moving forward will help you avoid becoming overwhelmed by fear.
Occupy your mind with something else. It's often healthy to take a step back and find a positive distraction to reduce anxiety.  Are you feeling anxious about the positive pregnancy result you received a couple of days ago?  Accessing early pregnancy services would be a great next step.  But in some moments, listening to your favorite song, watching a movie, or re-organizing your closet may be the best thing for your mental health.
Fear may be a part of your pregnancy journey.  But it's temporary and ever-changing, which means it probably isn't a strong foundation to build your pregnancy decision upon.  Consider letting your values, beliefs, and strengths inform your choice most of all.  Avenue Women's Center exists to empower women for their own best outcomes.  We carry out this mission by providing free first-step pregnancy services, reliable information, and unconditional support.
Call, text, chat, or email to schedule an appointment today!
_______________ 
Reference:
Psychology Today.  (2021, January).  7 Strategies to Manage Anxiety.  Retrieved from: https://www.psychologytoday.com/us/blog/mental-health-nerd/202101/7-strategies-manage-anxiety
The information provided here is general in nature.  It is not a substitute for a consultation with a medical professional. Before any medical procedure, it is imperative that you discuss your personal medical history, risks, and concerns with your doctor. If you have questions during or after a procedure, your doctor should be immediately contacted. Avenue Women's Center is not an emergency center.  If you are experiencing severe symptoms, such as bleeding and/or pain, seek immediate medical attention.  Contact your physician, go to an emergency room, or call 911.