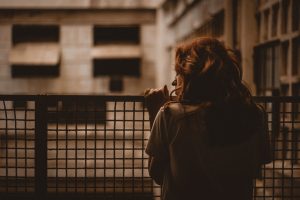 Have you ever lost someone close to you?  This happens to almost everyone at some point in life, but that doesn't make it any less painful.  Grief is a complex process that looks different for every individual.  If you've recently lost a close family member, you may be experiencing a mix of emotions: sorrow, anger, gratitude, love, numbness, and/or many others.  But your circumstances may feel particularly overwhelming if you're coping with an unexpected pregnancy in addition to your loved one's passing.  Thankfully, this isn't a journey you have to navigate on your own.
Grief is a natural response to loss.  Do you feel as though your future plans are slipping from your grasp after receiving a positive pregnancy result?  If so, your unexpected pregnancy may involve a grieving process of its own.  Our expert staff at Avenue Women's Center understands that grief (over your pregnancy or the passing of your family member) has the potential to impact you mentally, emotionally, socially, and physically.  We're here to offer a listening ear and practical assistance in the middle of this storm.
Learn about our first-step pregnancy services!  They're free to every courageous woman who reaches out for support. 
The Grieving Process
If your loved one passed away suddenly, you may have felt like the wind was knocked out of you.  Or, perhaps you've had time to process and prepare for this.  A person's grief response can depend on many factors, including her personality, her relationship with the individual who passed (as well as living family members), and countless other circumstances.  Remember that there's no "right" way to cope.  Grieving is about coming to terms and continuing your life journey, while honoring the person you've lost.  It's a natural, even healthy, transition period that can lead to deeper healing.
When an Unexpected Pregnancy Intensifies the Pain of Grief
What if you've come face to face with an unexpected pregnancy when you're already going through a significant loss?  Your circumstances and emotions may feel especially complex if this describes your situation.  Maybe you would normally lean on the person who passed for emotional or practical support.  Perhaps you're taking on new responsibilities, or feeling a heightened need to "be there" for your loved ones.  Then there's the matter of navigating this pregnancy with family members.  If they're aware of your pregnancy, they may have complicated feelings of their own that are particularly hard to process with so much going on.
The Value of First-Step Pregnancy Services
If you're feeling overwhelmed by your circumstances, and don't know where to turn, consider reaching out to an early pregnancy center.  Avenue Women's Center offers caring support and practical help.  We provide free medical-grade pregnancy tests, limited medical ultrasounds, and more! In our experience, women feel most confident in their pregnancy decisions when they've been empowered with reliable information and helpful resources.  That's why we're committing to educating each woman who walks through our doors with reliable information about her pregnancy and options.  Avenue's limited medical clinics are safe, comfortable, and judgement-free!
Healing Through Support
Chances are, building a strong support system is going to be a vital part of your healing process.  If you've lost a loved one and are going through an unexpected pregnancy, consider reaching out to a trusted faith leader, professional counselor, or pregnancy consultant.  Family can be an incredibly valuable source of support.  However, it may be particularly helpful to receive encouragement from someone with a neutral perspective, especially if your family members are going through their own grieving process.   Someone like a pregnancy consultant can offer the practical help, compassion, and perspective you need to take your next best steps.
As challenging as grief can feel, it's important to acknowledge and accept your pain.  A first-step pregnancy center like Avenue Women's Center can meet your needs through this season of life.  Reaching out for help takes courage. This means that all the women we serve are capable of leaning into their strengths and growing in resiliency.  Let us help you create a pregnancy plan that works with your life, no matter what challenges you're facing. 
Schedule an appointment at one of our six Chicagoland, Illinois locations today!
The information provided here is general in nature.  It is not a substitute for a consultation with a medical professional. Before any medical procedure, it is imperative that you discuss your personal medical history, risks, and concerns with your doctor. If you have questions during or after a procedure, your doctor should be immediately contacted. Avenue Women's Center is not an emergency center.  If you are experiencing severe symptoms, such as bleeding and/or pain, seek immediate medical attention.  Contact your physician, go to an emergency room, or call 911.