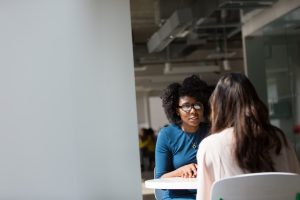 Lexie clenches her hands together, nervously eyeing the wall clock above the waiting room reception desk.  This is the first time she's visited a professional counselor.  Her mind is buzzing with questions:  What's she going to ask me?  How will I respond?  What would my family think if they knew I was here?  Does seeing a therapist mean that I'm "crazy?"  Lexie feels anxious and confused, and she doesn't want to be here.  But dealing with her unexpected pregnancy has been a struggle, and she knows she needs help.
For many women, an unexpected pregnancy can be stressful or even traumatic.  This experience represents an abrupt shift in a woman's life plans, and change can be difficult to process.  Perhaps Lexie's situation reminds you of your own, and you're experiencing a similar sense of embarrassment or uneasiness around the idea of seeking professional support.  Stigma, or shaming, can be a powerful influence, whether it stems from society, your loved ones, or your own beliefs.  However, the stigma about mental health counseling can be overcome!  Caring for your mental health demonstrates courage, and that's never something to feel ashamed of.
Avenue Women's Center is a limited medical clinic that offers resources and support to women coping with an unexpected pregnancy.  At each of our six Chicagoland, Illinois centers, you'll find accurate information on all your options and an opportunity to process your unique circumstances with a pregnancy consultant.  Our compassionate staff can also help you connect with a mental health professional and other resources in your area!
Learn more about the free and confidential early pregnancy services that Avenue provides!
The Benefits of Mental Health Counseling
Whether you're considering abortion, adoption, or parenting, your pregnancy decision will come with unique challenges and outcomes.  It's an important choice that involves your own health.  So, taking the time to explore your next steps will be beneficial.  Professional counseling may present an opportunity to process your feelings and circumstances- those directly related to your pregnancy and those you've been coping with for years.  Maybe, as you develop insight, you'll feel better equipped to make your pregnancy decision with confidence.  Getting to know yourself and your values better, and receiving compassionate support in the process, is bound to produce positive results.
An Opportunity for Empowerment
As they assess whether mental health counseling is right for them, people sometimes wonder if seeking help is a sign of weakness, or an indication that they can't handle life's challenges.  On the contrary, professional counseling can be an empowering experience.  When you accept difficulties and look for opportunities to grow, you're actually demonstrating strength!
It's Normal to Have Some Doubts.  Let's Address Them!
Perhaps you're dealing with stigma around mental health counseling based on negative past experiences.  Maybe your previous therapist seemed judgmental, lacked professionalism, or just wasn't a good fit.  It's understandable that this might leave a bad taste in your mouth.  Mental health professionals have a responsibility to uphold your health and well-being, but they're also individuals with unique personalities and counseling styles.  If you didn't have a good experience with one mental health counselor, consider giving counseling a chance with a different qualified professional.  Are you feeling anxious about the questions that a mental health professional might ask, or what your loved ones might think?  Know that your therapist is responsible for protecting your confidentiality (except in very specific instances, like when your safety or someone else's is at stake).  It's his or her role to listen, support, and help you gain greater insight into your situation and yourself.
Processing emotional pain and seeking greater self-awareness is beneficial for everyone, through every season of life.  However, mental health support is especially important during times of stress.  If you're struggling to cope with an unexpected pregnancy, our expert staff at Avenue Women's Center can help you get established with a mental health professional.  We care about every aspect of your health- physical, emotional, and mental.  We're here to equip you with the services, resources, and support you need to take your best steps forward.
Schedule an appointment today at one of our six Chicagoland, Illinois locations!
If you're having thoughts of harming yourself or others, contact 911, a licensed therapist, or mental health counselor right away.
The information provided here is general in nature.  It is not a substitute for a consultation with a medical professional. Before any medical procedure, it is imperative that you discuss your personal medical history, risks, and concerns with your doctor. If you have questions during or after a procedure, your doctor should be immediately contacted. Avenue Women's Center is not an emergency center.  If you are experiencing severe symptoms, such as bleeding and/or pain, seek immediate medical attention.  Contact your physician, go to an emergency room, or call 911.