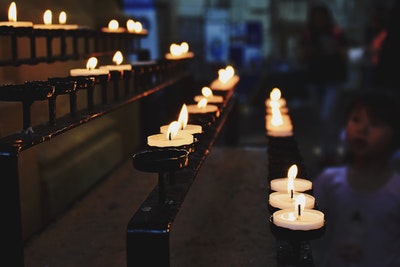 Often making a big decision involves considering many aspects of a person's life—values, goals, beliefs, and faith. This is also true when making a decision regarding an unplanned pregnancy. So, what happens when one person approaches the decision with a faith background that is different from their partner? How do you work through the decision when your partner's beliefs are different from your own?
Avenue Women's Center is a women's limited medical clinic specializing in services geared towards unplanned pregnancy. We offer free pregnancy tests to confirm (or unconfirm!) your pregnancy, followed by a consultation with one of our experienced client advocates. If you are in the midst of a pregnancy decision, regardless of your values, goals, and beliefs—we are here for you. We provide nonjudgmental, confidential support to women and their partners who are navigating an unplanned pregnancy. Contact us today.
"I'm pregnant and my partner and I share different beliefs. What do we do?"
Here are some factors to consider:
How important is your set of beliefs or faith in regards to your pregnancy decision? A stressful situation can often shed light on the importance of our beliefs. It can show if those beliefs are things we will base our decisions on, or if they don't seem to impact the situation. Take a moment to assess where you are at and if your faith or belief system will play a role in your decision-making.
What does your faith say about your current situation, if anything? Once you have assessed the level of importance of your belief system, now consider what your faith says about your current situation. Does it provide any guidance or support for you? Is it something you will look to for insight into making a pregnancy decision?
How important are those sets of beliefs to your partner? Next, determine how important your partner's beliefs are to him/her. Is their faith something they attest to culturally but doesn't play a role in their lives? How does their beliefs shape their feelings your current situation together?
What does your partner's set of beliefs say about pregnancy/life, if anything? Again, after determining the level of importance their belief system will have, next find out how those beliefs may impact a pregnancy decision.
Talk/Listen. All of this requires listening well to your partner while also thinking intentionally about your own set of beliefs. In order to do this, you'll want to give yourself time and space to process through your thoughts both individually as well as a couple.
Do you need to find a compromise? After you've shared from both of your perspectives, you'll want to determine if you need to reach a compromise. Ideally, you will have landed on the same page, yet we know that doesn't always happen. So, take time to discuss what each option looks like, how it will impact your relationship and the role your faith plays in all of it.
Bring in a neutral third party. Many couples can find it helpful to discuss this with a third party such as a counselor or religious leader. Also, pregnancy resource centers like Avenue Women's Center offer complimentary pregnancy consultations with trained client advocates who have assisted many couples through the pregnancy-decision making process. Sharing your thoughts, questions, and concerns with someone removed from the situation can prove beneficial.
If you are facing an unplanned pregnancy and determining the next steps, contact Avenue Women's Center today. Navigating the decision-making process can be tricky, and even more so if you have different beliefs from your partner. Our caring client advocates are here to assist you with helpful information, nonjudgmental support and a listening ear. Contact us for an appointment at one of our five DuPage County locations today—Elmhurst, Glen Ellyn / Lombard, Naperville, West Chicago, and Wood Dale, Illinois.
The information provided here is general in nature.  It is not a substitute for a consultation with a medical professional. Before any medical procedure, it is imperative that you discuss your personal medical history, risks, and concerns with your doctor. If you have questions during or after a procedure, your doctor should be immediately contacted. Avenue Women's Center is not an emergency center.  If you are experiencing severe symptoms, such as bleeding and/or pain, seek immediate medical attention.  Contact your physician, go to an emergency room, or call 911.