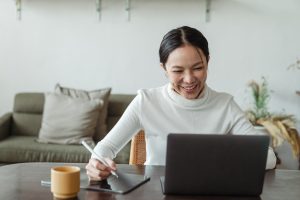 Have you ever heard the expression, "Pull yourself up by your bootstraps?"  It means to move forward in life by your own efforts.  This is a popular mentality in modern Western culture.  But is it the healthiest approach when real challenges surface?  Maybe you're going through an unexpected pregnancy, and you need help to take your next steps with confidence or even just survive this.  You don't have to go it alone to "move forward in life."  In fact, seeking support through resources may be your most self-empowering move yet.
If you're experiencing an unexpected pregnancy, there's likely a wealth of resources available to meet your practical and emotional needs.  But many women make pregnancy choices feeling under-equipped because stigma gets in the way.  Do you feel ashamed to ask for help?  If so, stigma may have a hold on you.  It can come from a lot of different sources: from loved ones, strangers, society, and even yourself.  Breaking down barriers of shame may be an important part of your pregnancy journey.  Avenue Women's Center is here to support you in that process!
Learn more about our mission at Avenue!  We're an early pregnancy center in the western Chicago metro area, and we're here to help women access the facts and resources they need to make a truly informed pregnancy decision.
Speaking Up and Seeking Help
There's no way around it.  Acknowledging that you need help and seeking it is the best (maybe the only) way to access support.  And sometimes, you have to experience this for yourself to fully understand the benefits and break the grip of shame in your own heart and mind.  That first step of reaching out for help may be the hardest part.  But if you've ever moved beyond your fear and advocated for yourself, you know that this is rarely a regrettable choice.  Talking about your circumstances with someone trustworthy may be the most effective way to realize you're not alone.  Chances are, many people have been through (or are presently going through) situations like yours.  At Avenue Women's Center, we completely understand that your first call or text may feel intimidating.  We're ready to respond with warmth and compassion- no matter what.
What Kinds of Resources Can Avenue Women's Center Help Me Access?
Avenue provides free first-step pregnancy services to women experiencing an unexpected pregnancy.  We offer medical-grade pregnancy tests, limited medical ultrasounds, options consultations, and more!  If you need resources that extend beyond our direct services, we'd love to offer information and referrals that help you find what you're looking for.  Here are some types of assistance we regularly help women access:
Health insurance programs and assistance
Financial services
Parenting support & supplies
Housing support
Educational resources
Mental health resources
Community/group support
Spiritual support
A Sign of Strength
Accessing resources isn't a sign of weakness.  It's a sign of strength.  That's because accepting that you need support and actively pursuing it takes courage, effort, and determination.  Are you willing to step outside your comfort zone and reach out for help to empower yourself for this pregnancy decision?  If so, that's honorable!  Resources are available regardless of which pregnancy option (abortion, adoption, or parenting) you choose.  But utilizing, or simply learning about resources now may light your path to a more confident decision.
Community programs and resources aren't perfect.  But it's highly likely that your area has well-informed, non-judgmental professionals and volunteers who genuinely want to help.  Accepting support is a brave step forward.  You're not alone.  You've got this.  And you can count on Avenue Women's Center to be there for you throughout this pregnancy journey.
Schedule an appointment today!  We offer no-cost virtual appointments to women across the U.S., and in-clinic services to those in the Chicagoland area.
The information provided here is general in nature.  It is not a substitute for a consultation with a medical professional. Before any medical procedure, it is imperative that you discuss your personal medical history, risks, and concerns with your doctor. If you have questions during or after a procedure, your doctor should be immediately contacted. Avenue Women's Center is not an emergency center.  If you are experiencing severe symptoms, such as bleeding and/or pain, seek immediate medical attention.  Contact your physician, go to an emergency room, or call 911.