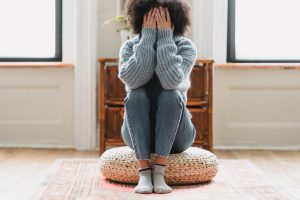 Do you have an appointment for a medication or surgical abortion on your calendar?  Perhaps you're not feeling ready to follow through just yet.  Maybe this is happening a bit too fast for you, and you need more time to consider your options.  Perhaps abortion wasn't your first choice, but you're feeling pressure from others in your life.  Or, you don't believe you have enough information right now to move forward with an abortion.  Maybe you've gone over the facts a hundred times, but you're still feeling mentally or emotionally unprepared.  The decision to get an abortion is significant and may impact a woman's physical and emotional wellness.  That's why it's critical to learn about the pregnancy itself, potential risks, and all your options and resources before taking your next steps.
Making your pregnancy decision from a self-assured, well-informed point of view is key, whether you're leaning toward abortion, adoption, or parenting.  If you're feeling unprepared for an abortion, it can be helpful to give yourself time to gather more information and space to process your decision.  Our expert staff at Avenue Women's Center is passionate about helping women make confident, well-informed decisions in the face of an unexpected pregnancy.  We provide free, confidential first-step pregnancy services!
Are you looking for straightforward information about each of your pregnancy options and available resources?  Do you need help understanding where you stand with this pregnancy- like the possibility of miscarriage, for example?  Maybe you simply want to process everything in a safe environment with someone who cares.  If so, reach out to Avenue Women's Center today!
Listening to Your Gut
It would be a misstep to push your instincts aside as your appointment date approaches.  Maybe you're planning to get an abortion today, but you can't shake the feeling that you're just not ready yet.  It's not too late to take a step back!  If you need to cancel your appointment, no-show, reschedule, or walk out the clinic door moments before your abortion procedure, that's okay!  Your peace of mind is most important… more important than breaking a promise to yourself or disappointing a loved one, and definitely more important than causing a minor inconvenience at the clinic.
Remember that you don't have to decide right now.  You can place this pregnancy decision on a slightly higher shelf, to reach for when you do feel prepared.  In the meantime, take steps toward readiness by empowering yourself with knowledge and support.  The information and care you discover could help inform this pregnancy choice.
Important Pieces of Information to Gather
Before moving forward with a pregnancy decision, it's critical to ask yourself (or in some cases your medical provider or pregnancy consultant) a handful of clear-cut questions.
What are the risks? Every pregnancy option includes both benefits and potential risks.  Talk with a doctor about the risks abortion may pose for your unique body.
What's the status of the pregnancy? Around six weeks into your pregnancy, a medical professional may see your pregnancy on an ultrasound clearly enough to evaluate the possibility of miscarriage (the pregnancy ending on its own).  A scan can also detect an early pregnancy risk called ectopic pregnancy (a pregnancy located outside the uterus).  Some conditions- like ectopic pregnancy- must be addressed right away to protect your health and safety.  Plus, an ultrasound can date your pregnancy to determine which abortion method(s) you're eligible for.
What are the options? Essentially, you have three: abortion, adoption, and parenting.  But you have options within your options too.  There are different abortion techniques and adoption plans to choose from.  And if you're considering parenting, there may be options to make that work for your life.
What resources are available? Practical resources like financial assistance, medical insurance, and housing can be incredibly empowering.  And looking into resources is an excellent use of your time no matter what, because many of them could benefit you regardless of your pregnancy choice.
If you don't feel ready to get an abortion, you may not be.  Is there a chance you'll never feel fully prepared for this pregnancy decision, at least not in an emotional sense?  Perhaps.  You're facing a complex and challenging choice.  But most women have time to weigh their options before the possibilities begin to narrow.  There are loads of steps you can take and questions you can ask here and now to clarify your best path forward.  One of those steps may be reaching out to Avenue Women's Center.  We're here to help answer questions like the ones mentioned above, and we offer early pregnancy services like limited medical ultrasounds and options consultations at no cost.
Avenue Women's Center exists to walk beside you throughout this pregnancy journey- no matter where it leads.  We're all about empowering women to step into the future as confidently as possible, through practical assistance and with a posture of genuine care.  Call, text, email, or chat with us!
The information provided here is general in nature.  It is not a substitute for a consultation with a medical professional. Before any medical procedure, it is imperative that you discuss your personal medical history, risks, and concerns with your doctor. If you have questions during or after a procedure, your doctor should be immediately contacted. Avenue Women's Center is not an emergency center.  If you are experiencing severe symptoms, such as bleeding and/or pain, seek immediate medical attention.  Contact your physician, go to an emergency room, or call 911.