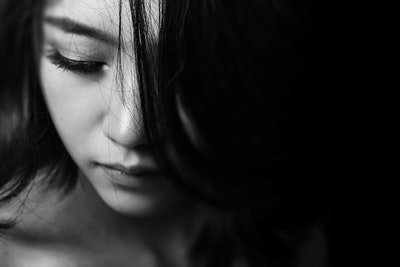 Perhaps you're facing a tough decision, fearing the outcome. It has a grip on you and makes you shake in your boots. Walking into the unknown can be scary. Many thoughts and possibilities might swirl in your head. "How will my situation turn out if I do _______." or "What will people think of me?" Fear can have a way of dominating a woman's life and keeping her from taking risks. At Avenue Women's Center, we understand. For over 36 years we have served women facing unplanned pregnancy—women who have dealt with fear and its effects on their lives. We provide free private consultations to help process your situation and provide you with important information for your next steps. Contact us today to schedule an appointment with one of our supportive client advocates.
How are we impacted by fear?
Identity: Fear distorts the truth, feeding ugly and terrorizing thoughts in your head. It doesn't tell you who you really are. The truth is, YOU are beautiful, special, and valuable.
Response: Fear can push you to respond in many ways. We have all heard of fight or flight. Often our fear can cause us to react quickly, perhaps making a rash decision or acting out in ways we wouldn't normally have responded. It can also cause us to shut down. We may feel overwhelmed and respond by denying our current circumstances or the decisions that need to be made.
Perception: Fear can impact the way we see our situation and others around us. Often fear causes us to have a "laser focus" or "tunnel vision." We are only able to see the fear and what is causing it. This can have an impact on those around us, as well as our own perception of the circumstances we are in.
How can we respond to fear?
Communicate: Find a trusted friend and tell them of your situation. Many times talking about what's in your mind and heart can give you a fresh perspective, which will help relieve any anxiety. Having support empowers courage and strength to face the unknown. Talk to a family member, friend, and reach out to Avenue Women's Center for support. We are able to provide a nonjudgmental space to process through your fears surrounding pregnancy.
Cope: Find ways to cope with fear. For many, it's some form of outlet: exercise, hobbies, listening to music, practicing their faith, or many other options. Find something that allows you to focus and decompress. Any time that you spend not focusing on the fear is helpful to relieve some of your stress.
At Avenue Women's Center, we encounter many women who are facing their fears. An unplanned pregnancy was not what they had expected and it brought with it many concerns and stressors. As a result, fear becomes an influencing factor in making a decision regarding their pregnancy.
If you can relate, don't hesitate to contact us today. Avenue Women's Center is a women's limited medical clinic that is the first step for women facing unplanned pregnancy. You don't have to walk this path alone. Our caring client advocates can give you a safe place to process your decision, as well as provide helpful information about all of your options. We care about you and look forward to helping you move forward in confidence!
The information provided here is general in nature.  It is not a substitute for a consultation with a medical professional. Before any medical procedure, it is imperative that you discuss your personal medical history, risks, and concerns with your doctor. If you have questions during or after a procedure, your doctor should be immediately contacted. Avenue Women's Center is not an emergency center.  If you are experiencing severe symptoms, such as bleeding and/or pain, seek immediate medical attention.  Contact your physician, go to an emergency room, or call 911.