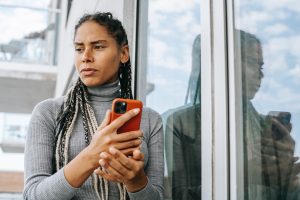 Disagreements with the person closest to us can sometimes be distressing and nerve-racking. While it's always important to listen to one another, sometimes even after listening, we still disagree! Maybe you find yourself in a situation where your partner wants you to be pregnant, but that's far from what you want. How do you navigate this difficult situation and conflicting ideas?
Conflicting desires and opinions on pregnancy can be difficult to process and communicate through. Avenue Women's Center is here for you. We provide a safe space to receive the information and support needed to navigate this uncertainty. We look forward to sitting with you and hearing your story so you can be confident to keep going!
Call, chat, email, or text us to find out how we can serve you!
A Positive Pregnancy Test When You Want Different Things
Maybe you found out you were pregnant and you and your partner began to disagree. Your partner wants to continue with the pregnancy, but you're not on the same page. You've brought up abortion and he's shot it down, insisting that you move forward. This situation can be packed with emotion and stressful to work through. It can be helpful to bring in a third party who can mediate your conversations together from an outside perspective. A therapist, faith leader, or pregnancy consultant could be an excellent option.
What Do You Want?
You may find it helpful to take time to think about what you want for your life and with your partner. If having children one day is something the two of you talked about and dreamt of for the future, could it work a bit sooner than you had planned? If this is something you don't want, what are some ways to prevent this sort of emotional rollercoaster in the future?
Navigating Disagreement
As you move forward in discussing and processing your pregnancy options, it's important you both take the time to listen and learn. Getting to a point of understanding the other and hearing each other out isn't easy, but is worthwhile. While you may still not end up agreeing, relationships often do better when each person feels heard. Setting apart time to talk when you both won't feel rushed or distracted is essential. Sometimes first taking time to process by yourself and think through what this means and what you want can be helpful.
Receiving Resources and Support
No matter how you decide to move forward, you will need to gather some information and resources. Finding out about the different risks, costs, or potential benefits of your pregnancy options can be a great place to get started. Having an ultrasound exam to check the age of your pregnancy, health, and whether or not it's likely to continue on its own is a great next step. If you need resources and support beyond the pregnancy, there are many groups and organizations that can assist so that you can thrive.
Figuring out how to proceed with a positive pregnancy test and disagreement isn't easy. But we're here to make your path a bit smoother. We love partnering with women and their partners to help foster communication and provide free, confidential resources for this time of your lives.  
Connect with us to visit the location nearest you!
The information provided here is general in nature.  It is not a substitute for a consultation with a medical professional. Before any medical procedure, it is imperative that you discuss your personal medical history, risks, and concerns with your doctor. If you have questions during or after a procedure, your doctor should be immediately contacted. Avenue Women's Center is not an emergency center.  If you are experiencing severe symptoms, such as bleeding and/or pain, seek immediate medical attention.  Contact your physician, go to an emergency room, or call 911.