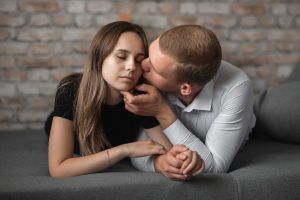 Having a conversation about your pregnancy with a partner, family member, or friend can be hard, even when the relationship is healthy and long-standing.  And yet, sharing the news of your unexpected pregnancy with certain people in your life may also be very beneficial.  Doing so creates an opportunity to strengthen your support system in the middle of what may feel like a vulnerable situation.  Sharing your pregnancy news with others may also offer a chance to hear a different perspective and process your feelings within a supportive relationship.
Does your positive pregnancy result feel like a secret?  Maybe it's a secret that's pressing heavily on your mind, and it feels like you're shouldering that weight alone.  This can be a lonely place to find yourself.  Everyone's needs (practical and emotional) are unique, and so is every set of circumstances.  But for some women, sharing their stories provides a greater sense of freedom to step into the future feeling confident and cared for.
Confiding in someone trustworthy may be an important part of your own pregnancy journey and decision-making process.  At Avenue Women's Center, we understand how challenging these conversations can be.  We're here to help you build a strong and healthy support system, and move forward with an empowered, well-informed perspective.
Check out Avenue's "About" page!  We've been providing early pregnancy services since 1981.  We offer lab-quality pregnancy tests, limited medical ultrasounds, options consultations, and more, at no cost!
Communication Tips and Tricks
It's normal to feel nervous when you imagine talking with someone about your pregnancy.  But, thankfully, you don't have to walk into this conversation without first feeling prepared.  Here are some communication tips and tricks that may help you manage the discussion with confidence, and help create a space where everyone present feels seen and heard.
Be clear and concise. Put what you have to say in simple terms, at least to start, and provide direct answers to questions you feel comfortable answering.
Ask open-ended questions: for example, "How are you feeling about the news I've shared?"
Listen well. Many of us have a natural tendency to keep our primary focus on what we're going to say next.  Listen for the sake of understanding and empathizing with the other person.  Trying to understand the other person's perspective can better help you to clarify, ask questions, and express yourself.  Plus, the other person will probably feel respected, which means they'll hopefully offer you respect and a listening ear in return.
If conflict begins to surface, avoid statements that place blame. Accept responsibility, but hold the other person accountable if needed using respectful language.  If you feel the need to give the person you're speaking with "negative" feedback, present it gently: for example, "I felt hurt by your comment just now."  Language that's accusatory or over-generalized (like "you always…" or "you never…") is probably best avoided.
Approach and walk away from the conversation with an attitude of acceptance. Your loved one may be upset by your news.  If they are, that's okay.  Chances are, they'll have their own complex feelings to process through, in part because they care about you.  Consider giving them a little time and space for self-reflection if that's what they need.  Also, show them that you're listening by openly acknowledging and accepting what they're telling you, and maybe re-phrasing some of their comments out loud to make sure you understand.
Remember that this one conversation probably won't be the beginning and end of your experience sharing your pregnancy news with this individual. It's a starting place.  There will likely be follow-up conversations and opportunities to grow toward mutual understanding.  So, if the discussion doesn't seem to go well, don't lose hope.  It's okay to let them know you're hoping for their support, even if they seem frustrated or disappointed.
Whether you're feeling ready to approach someone with your pregnancy news, or totally uncomfortable with this idea, Avenue Women's Center is available to help.  An Avenue pregnancy consultant is a great person to confide in.   Our staff is here to meet your needs with warmth and professionalism, never judgment.  Many women find it helpful to speak with a neutral but compassionate third party to process their circumstances, explore their resources, and plan for what's next.
Schedule an appointment today!  Avenue Women's Center has six limited medical clinics located in Darien, Elmhurst, Glen Ellyn / Lombard, Naperville, West Chicago, and Wood Dale, Illinois!
The information provided here is general in nature.  It is not a substitute for a consultation with a medical professional. Before any medical procedure, it is imperative that you discuss your personal medical history, risks, and concerns with your doctor. If you have questions during or after a procedure, your doctor should be immediately contacted. Avenue Women's Center is not an emergency center.  If you are experiencing severe symptoms, such as bleeding and/or pain, seek immediate medical attention.  Contact your physician, go to an emergency room, or call 911.