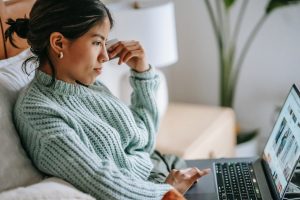 Discovering that you're pregnant is a scenario you might have assumed was impossible for you. Though it's rare, pregnancy can still occur after tubal litigation. The situation is understandably unexpected. You may need to think carefully about what you want and where you want to go from here. How do you feel about the pregnancy? What are your thoughts about your options? Processing new information on your own can be stressful. It can be helpful to locate support as you plan your next steps.
It can be frustrating when your preferred method of birth control fails. Avenue Women's Center is here to help you navigate through this surprising challenge. Meet with one of our expert pregnancy consultants to discuss your choices. We'll provide you with accurate information about abortion, adoption, and parenting. Your health is also important to us as you think about your decisions. Each of our centers offers limited medical services and other resources. We are prepared to help by ensuring you have easy access to the care you need.
Contact us today to schedule your free appointment at one of our six office locations in DuPage County!  
Is Pregnancy Still Possible After Tubal Litigation?
A healthcare provider may have banded, cut, sealed, or tied your fallopian tubes to complete this procedure. The surgery typically prevents fertilization by keeping an egg from reaching your uterus. You might have sought this procedure because it seemed like an effective birth control method. However, an unexpected pregnancy can still result in a few circumstances. In some cases, it may not be until years after you've had the operation.
The method your provider used is one possible factor. Each type of surgery tends to vary in terms of effectiveness. Some procedures may not have a long-term effect on your tubes. Sometimes a fallopian tube grows back after tubal litigation. As a result, there may be a chance you can still become pregnant afterward.
Age can also play a role. If the operation happened when you were young, the procedure may fail to guard against pregnancy at some point.
What Are the Symptoms of an Ectopic Pregnancy?  
Tubal litigation can increase the chances of a fertilized egg implanting outside your fallopian tube. This is commonly referred to as an ectopic pregnancy. It's recommended you determine if you're at risk for this condition right away. You may need medical treatment.
An ectopic pregnancy can initially look like a normal pregnancy when you take a test. An ultrasound exam can inform you if an egg has been implanted somewhere it cannot grow. You might have also noticed a few signs prior to having an ultrasound.
The symptoms associated with an ectopic pregnancy may include:
Abdominal pain
Light or severe vaginal bleeding
Pelvic pain
Pelvic pressure, particularly during bowel movements
Lightheadedness
Shoulder pain
Once you have a better idea of your overall health, you can begin to think about your pregnancy options.
How Do I Feel About My Options?
Assessing your feelings about your three decisions can take time. You may have initially sought the surgery because you didn't want to get pregnant. Now that you are, have your feelings changed? Or do you feel the same? Reflecting on all three of your options can help you make the best decision for yourself.
You might have been shocked to learn you're pregnant after having a tubal litigation. Avenue Women's Center can help you process accurate information about each of your choices. Confirm your pregnancy for free at one of our six clinics. Our expert staff will also provide you with accurate information about all of your options. Process through your decision and get relevant answers to your questions right away.
Reach out today for confidential care you can trust!
_______________
References:
Reviewed by Patricia Kuenzi, APN-CNP, MSN, ANP, PNP.
The information provided here is general in nature.  It is not a substitute for a consultation with a medical professional. Before any medical procedure, it is imperative that you discuss your personal medical history, risks, and concerns with your doctor. If you have questions during or after a procedure, your doctor should be immediately contacted. Avenue Women's Center is not an emergency center.  If you are experiencing severe symptoms, such as bleeding and/or pain, seek immediate medical attention.  Contact your physician, go to an emergency room, or call 911.