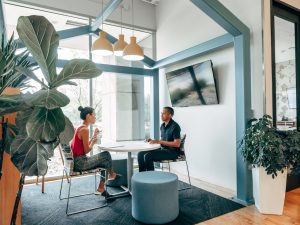 Have you recently received a positive pregnancy result that you hadn't anticipated?  If so, the circumstances you're facing today may feel overwhelming in a way that words can't describe.  Many women feel isolated after discovering an unexpected pregnancy, particularly in those hours and days before they've shared the news with loved ones.  Maybe a part of you wants to tell your partner, but you recognize the significance of this subject, and you're wondering how to approach it with him.  Know that it's possible to share your pregnancy news with a healthy balance of care and courage!
If you're going through an unexpected pregnancy, and need help navigating all the challenges related to this, Avenue Women's Center is here for you!  We're a limited medical clinic with six locations in the western Chicago metro area.  Our free early pregnancy services include medical-grade pregnancy tests, limited medical ultrasounds, options consultations, and more!
Call, text, chat, or email to schedule an appointment today!
Wondering How He'll Respond
It's completely normal to be asking yourself, "How do I tell my partner I'm pregnant?".  Chances are, this question is growing from another uncertainty: "How will my partner respond to the news?"  A lot of reactions are possible, depending on a huge variety of factors (like your partner's temperament, his expectations for the future, his values and beliefs, etc.).  Perhaps you know your partner well.  And you have a pretty solid guess of how he'll respond.  That may be!  Considering his perspective and how he might take the news is a great way to prepare for this conversation and approach him with empathy.  But sometimes, when faced with significant new information, people respond in ways that surprise even themselves.  It may be wise to mentally prepare yourself for a lot of different reactions: shock, anger, happiness, fear, numbness, excitement, confusion, and disappointment… just to name a few.  Your feelings about this pregnancy have probably been complex and challenging to process.  Your partner may have a similar experience.
Practical Steps for Healthy Communication
Needless to say, telling your partner about your pregnancy is the only way to answer the question, "How will he respond?"  This conversation may feel uncomfortable and intimidating at times.  But you don't have to open that door without first collecting some helpful communication tools.  There are practical steps you can take to have a constructive conversation, in which you both feel seen and heard, even if disagreement and difficult feelings surface.  A few of those suggestions are noted below!
Choose an appropriate setting.
Any time you feel a nudge to have an important (but possibly difficult) conversation with someone, begin by choosing a place and time that will provide the right conditions for good communication.  A calm, comfortable environment with few (if any) distractions generally works well.  Depending on your partner's personality, your relationship, and your best guess of how he'll respond, you may decide to have this conversation in private or invite someone you both trust to be present for added support.  Consider approaching the discussion during a moment when you and your partner are connecting in a calm, relaxed way.
Keep it clear and concise. 
There's no easy way to tell a partner about an unexpected pregnancy.  But because your news holds a lot of weight, it's probably best to express yourself clearly and simply at first.  Don't feel pressured to share everything that's inside you- like your feelings, your hopes for the future, and the pregnancy option(s) you're considering- all at once.  Allow time for you and your partner to process this together, at your own pace.  It's wise to think about what you'd like to say beforehand.  However, expect this dialogue to unfold gradually (over the course of hours, days, and weeks).
Accept his response with open hands. 
Unless he finds out about the pregnancy before you tell him, your partner won't have the same benefit of mental preparation that you have.  It may be wise to offer him a little extra patience and kindness as he reacts to your news.  Your partner may respond "negatively," unexpectedly, or differently than you'd hoped.  Accept his response for what it is, while setting boundaries (if necessary).  Chances are, he'll need time and space to process what you're telling him and seek answers to his questions.  That's okay.  Allow him to express his thoughts and feelings without judgment when he's ready to, and ask him to show you the same courtesy.  Remember that his feelings and views may change over time!
As challenging as it may be to tell your partner about an unexpected pregnancy, there are many potential benefits to taking this brave step.  He may become a vital source of support throughout your pregnancy journey.   And he'll probably appreciate your honesty in the long run.  It's amazing how difficult conversations like this can actually create growth and unity in a relationship, because you and your partner will be managing this conflict together.  Our caring team at Avenue Women's Center is here to support you (and him) throughout this experience.
Reach out to speak with an expert staff member and learn more about the confidential care we provide at Avenue!
The information provided here is general in nature.  It is not a substitute for a consultation with a medical professional. Before any medical procedure, it is imperative that you discuss your personal medical history, risks, and concerns with your doctor. If you have questions during or after a procedure, your doctor should be immediately contacted. Avenue Women's Center is not an emergency center.  If you are experiencing severe symptoms, such as bleeding and/or pain, seek immediate medical attention.  Contact your physician, go to an emergency room, or call 911.