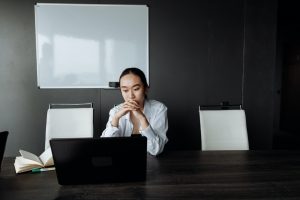 Whether it's unexpected or not, pregnancy can seem quite emotional or even stressful. Perhaps you've recently found out you're pregnant, and, for one reason or another, you're looking into the abortion pill as one of your options. But maybe you don't have all the information you'd like and you're not sure how to determine what is accurate. If you find yourself asking, "How does the abortion pill work?" we're here to help.
Exploring your pregnancy options is a great step once you've learned you're pregnant! Sometimes gathering information can feel confusing or you might receive conflicting reports. At Avenue Women's Center, we offer up-to-date and factual information about how the abortion pill works. Learn more about abortion and your other pregnancy options at one of our six Chicagoland centers.
Call, chat, email, or text us today for a free, confidential appointment!
What Is the Abortion Pill?
The abortion pill goes by several names, which can lead to some confusion. The abortion pill is also known as "medication abortion," "self-induced miscarriage," or "medical abortion." The abortion pill is typically a series of two pills that play different parts in the abortion process. The first pill is called mifepristone (known commercially as Mifeprex). The second pill is called misoprostol (known commercially as Cytotec).
What Does It Do?
The first pill, mifepristone, is designed to block the hormone progesterone from continuing to enter your uterus. This halts the growth of your pregnancy.
The second pill, misoprostol, is meant to bring on contractions that expel the pregnancy from your uterus.
What Is the Process?
Usually, women take the first pill at the abortion provider's office. The provider should administer an ultrasound exam to make sure the pregnancy is at the right age and stage for the abortion pill. The provider should also provide information about the pills and process as well as any emergency information.
After taking the first pill in the provider's office, you will typically be given the next pill to take at home later. This second pill can cause pain, cramping, and contractions as your uterus expels your pregnancy. You should expect bleeding and take it easy for a few days.
What Are the Concerns?
As with any procedure, there can be complications.
The abortion pill is only FDA-approved up to 10 weeks of pregnancy.
If you have an IUD you cannot have a medical abortion.
If you have an ectopic pregnancy, you will need another procedure for this serious medical condition which can be determined through an ultrasound exam.
Sometimes the abortion pill can cause complications such as an incomplete abortion or heavy bleeding. It is recommended you go to the emergency room if you are in extreme pain or bleeding excessively.
What Else Should I Know?
Deciding to move forward with the abortion pill is your decision alone. Nobody can pressure you into something you have doubts or concerns about. You're allowed to show up at the provider's office and change your mind. However, if you happen to take the first pill and end up deciding against or regretting your decision, there may be an alternative. There is a safe "Abortion Pill Reversal" process. While not 100% guaranteed to reverse the effects of mifepristone, if you are truly regretting your decision it is worth a try.
With any pregnancy decision, there's a lot of information to be aware of. You should never feel like you have to go into this alone or misinformed! If you'd like to learn more or have some of your concerns addressed, we'd love to have you meet with one of our consultants. You can also confirm your pregnancy for free with one of our medical-grade tests and find out your pregnancy age through a free limited ultrasound exam! As you move forward you should feel empowered and confident in your decision. 
Schedule your free services and consultation with us at a location near you!
Reviewed by Patricia Kuenzi, APN-CNP, MSN, ANP, PNP.
The information provided here is general in nature.  It is not a substitute for a consultation with a medical professional. Before any medical procedure, it is imperative that you discuss your personal medical history, risks, and concerns with your doctor. If you have questions during or after a procedure, your doctor should be immediately contacted. Avenue Women's Center is not an emergency center.  If you are experiencing severe symptoms, such as bleeding and/or pain, seek immediate medical attention.  Contact your physician, go to an emergency room, or call 911.