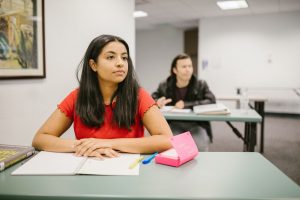 If you're asking this question, "How effective are birth control pills?", chances are, you're concerned about the possibility of conceiving unexpectedly.  Maybe you're worried that you're already pregnant, having received confusing test results, or noticed what seem to be pregnancy symptoms.  This may be your situation even if you've been using birth control pills and/or other contraceptive methods for a while.  It's normal to experience a lot of stress and anxiety around the plausibility of an unexpected pregnancy.  Even the remote possibility of one can leave a person feeling petrified.  Fortunately, there are active steps you can take to clarify where you stand and safeguard your health going forward.
If you believe you may be experiencing an unexpected pregnancy, or if you ever face this fear in the future, our compassionate team at Avenue Women's Center can help.  We're an early pregnancy clinic with six locations in Chicagoland.  Avenue offers free first-step pregnancy services, like medical-grade pregnancy tests, options consultations, and limited medical ultrasounds.  As a limited medical clinic, we do not provide contraception.  But you may find the care that we do offer extremely beneficial.
Learn more about us!  We've been a trusted provider of high-quality, no-cost early pregnancy support for over four decades!
Understanding Birth Control Pills
Birth control pills are a form of oral contraception, which use hormones to prevent pregnancy.  They work by stopping or decreasing ovulation, thickening cervical mucus (so it's harder for sperm to enter the uterus), and thinning the inner lining of the uterus (so it can't support a pregnancy).
According to Healthline and Cleveland Clinic, 9 out of every 100 persons on birth control pills (about 9%) experience an unexpected pregnancy.  Birth control pills are generally considered to be a highly effective contraceptive method.  However, they must be taken exactly as prescribed, at scheduled times, for maximum effectiveness.  No form of contraception is 100% effective.
If you have questions about contraceptive pills, or an interest in trying them, it would be helpful to consult a qualified medical professional, such as an OBGYN.  As with any medication, they come with unique risks and possible side effects.  Keep in mind that birth control pills aren't for everyone, and they don't protect against sexually transmitted infections (STIs).
Seeking Clarity
Maybe you're not concerned about a possible pregnancy right now, and you're just looking for ways to prevent this in the future.  If that's the case, and you're researching your options, it sounds like you're moving toward making an informed choice about contraception- which is commendable!  Your health and safety come first.  That's why it's wise to learn about any medication or medical treatment you're considering, and speak with a medical professional as needed.
On the other hand, perhaps you have reason to believe that you may be unexpectedly pregnant.  If so, reaching out to Avenue Women's Center would be an excellent next step.  We offer highly accurate medical-grade pregnancy tests at no cost.  You'll have an opportunity to speak with an expert consultant about all the pregnancy options and resources available to you.  Avenue also provides free limited medical ultrasounds, which can offer key information like how far along you are and where your pregnancy is located.  Knowing this may help you understand more clearly which pregnancy options you're eligible for.  Avenue is here for you no matter which pregnancy option (abortion, adoption, or parenting) you end up leaning towards.
It never hurts to get added clarity regarding a possible unexpected pregnancy.  Confirming whether or not you're pregnant can equip you to navigate your next steps from a knowledgeable point of view and make choices that protect your health.  Avenue Women's Center offers practical and emotional support to anyone who needs it in the wake of an unexpected pregnancy.  We meet you where you are with warmth and professionalism, never judgment. 
Reach out to speak with a caring team member and ask us your questions!
_______________ 
References:
Reviewed by Patricia Kuenzi, APN-CNP, MSN, ANP, PNP.
The information provided here is general in nature.  It is not a substitute for a consultation with a medical professional. Before any medical procedure, it is imperative that you discuss your personal medical history, risks, and concerns with your doctor. If you have questions during or after a procedure, your doctor should be immediately contacted. Avenue Women's Center is not an emergency center.  If you are experiencing severe symptoms, such as bleeding and/or pain, seek immediate medical attention.  Contact your physician, go to an emergency room, or call 911.