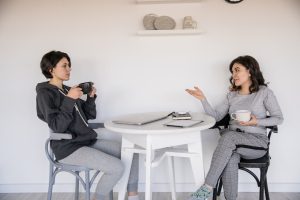 If you're coping with an unexpected pregnancy today, chances are, you're feeling like many aspects of your future are up in the air.  Maybe you're overwhelmed by all the outcomes your pregnancy options (abortion, adoption, and parenting) could lead to.  It's natural to feel paralyzed if your mind is processing multiple possibilities at once, and it seems you're not coming closer to finding clarity.  But you don't have to confront any of this on your own.  There's hope for the days, months, and years ahead.  And there's support available to help you carry on with peace and confidence.
It's normal for persons experiencing circumstances like yours to worry about how their relationships may be impacted…by their pregnancy news and pregnancy decision, in the near and distant future.  Our compassionate team at Avenue Women's Center is available to meet you in that challenging space.  We've been providing early pregnancy support to individuals in Chicagoland, Illinois and beyond since 1981.  We're here for you too!
Learn more!  We offer information, resources, and support to anyone who's feeling lost while facing an unexpected pregnancy. 
Standing Before an Uncertain Future
Each of your pregnancy options would likely affect your future relationships in some way, shape, or form.  It can be difficult to predict how.  Accepting the uncertainty of your future may be an important part of your journey, even if this is a hard reality to face.  However, you may find it helpful to try approaching this question, "How would my pregnancy options impact my relationships?" with an objective point of view.  Some of us who tend to wonder about the future also tend to struggle with doubt.  Any of your pregnancy options could potentially trigger stress within a family relationship, friendship, or romantic relationship.  But have you ever experienced firsthand how difficult circumstances can also draw people together?  Consider this as you continue to navigate the road ahead.
Processing the Future with People You Trust
Sharing Your Pregnancy News
Although none of us really knows what life has in store, there are practical steps any person can take to receive insight, or even positively influence their future.  Now may be a logical time to consider sharing your pregnancy news with those closest to you.  Having this conversation will create an opportunity to process your thoughts and feelings about the future with your family member, friend, or partner.  Consider posing some of these questions and reflecting on the answers together:
How are you feeling about my pregnancy news?
How are you feeling about the pregnancy option(s) I'm thinking over?
As you consider what I've shared, how do your picture the future of our relationship?
If you decide to have an open conversation, it's probably wise to expect honest answers.  Some of those answers may cause you to feel nervous instead of reassured.  Hold fast to your values and beliefs as you continue to contemplate your pregnancy options.
Benefits of Bringing in Others to Your Unexpected Pregnancy
Reflecting on your unexpected pregnancy with someone you trust can be beneficial for several reasons.  It's often helpful to hear the flow of your own thoughts and feelings by processing them out loud.  Talking about your circumstances and next steps may also allow you to receive a fresh perspective and added support.  Is your loved one willing to listen, express herself truthfully (but respectfully), and offer support?  If so, maybe that demonstrates what a valuable friend she is.   If not, she may need time for further reflection.  There may be follow-up conversations, and that's okay too.
It is possible to find support and face an uncertain future with courage. Our expert staff at Avenue Women's Center can be part of your support network while helping you strengthen your connections with the allies and advocates already in your life.  We get that you're longing for clarity.  We're here to help you receive as much insight as possible through providing reliable information and confidential care.
Discover our free early pregnancy services!  Avenue Women's Center provides medical-grade pregnancy tests, limited medical ultrasounds, options consultations, and more!  We believe these services play a key role in helping women find the answers they need to guide their next steps. 
The information provided here is general in nature.  It is not a substitute for a consultation with a medical professional. Before any medical procedure, it is imperative that you discuss your personal medical history, risks, and concerns with your doctor. If you have questions during or after a procedure, your doctor should be immediately contacted. Avenue Women's Center is not an emergency center.  If you are experiencing severe symptoms, such as bleeding and/or pain, seek immediate medical attention.  Contact your physician, go to an emergency room, or call 911.