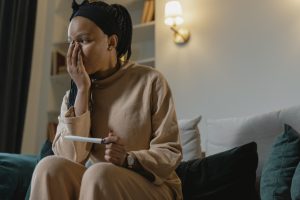 Life has a way of throwing us curveballs when we least expect it.  Maybe you've recently been surprised by symptoms that may point to an unexpected pregnancy.  These early days of believing you might be pregnant can feel overwhelming and isolating, especially if you haven't told anyone.  Perhaps a part of you wants to take a pregnancy test in order to receive some much-needed clarity, but you feel paralyzed by the fear of a positive result.  Fortunately, you don't have to face this alone.
Avenue Women's Center has been delivering first-step pregnancy services to women in Chicagoland, Illinois and beyond for over forty years.  We understand how scary the possibility of an unexpected pregnancy can feel, and we're here to help!  When you visit one of our six limited medical clinics, you'll be offered a free lab-quality pregnancy test that can provide reliable results just ten days after possible conception. 
Call, text, email, or chat to speak with one of our caring staff members.  You're welcome to schedule an appointment or just stop by!
Early Indications that You May be Pregnant
Let's begin by reviewing some common early symptoms of pregnancy.
You missed your period. If a week or more has passed since your last cycle was expected to begin, pregnancy is one possible explanation.  However, some women have an irregular cycle, which can cause confusion.
Your breasts feel sensitive and swollen. Hormonal changes early in pregnancy can cause the breasts to feel tender and sore.  This is likely to ease with time.
You feel nauseous. Some women experience morning sickness, especially one or two months into the pregnancy.  The term "morning sickness" is a bit misleading, because this nausea may happen at any point in the day or night.
You have to pee more often. The body produces more blood during pregnancy, which causes the kidneys to make more fluid.
You feel fatigued. Some women experience increased tiredness in their first trimester.  This may be related to a rise in the hormone progesterone.
Even if you've noticed one or more of these symptoms, getting an accurate pregnancy test is critical to confirm whether or not you're pregnant.  It's best to find out as soon as you can.  If the result is positive, you'll be able to access the care and support that you need.  If the result is negative, you'll be free to breathe a sigh of relief, but may need to assess if your symptoms could be the result of a different medical condition.
"What Happens When I Take a Pregnancy Test at Avenue?"
Avenue Women's Center provides highly accurate, no-cost pregnancy tests along with confidential pregnancy consultations.  We understand that taking a pregnancy test in our clinics may feel stressful to some women.  Your caring pregnancy consultant will offer you the privacy that you need, but she'll also be a supportive presence as you await the results and process the outcome.  You're welcome to bring a friend, partner, or loved one to the appointment for additional support if you choose.  During the pregnancy consultation, you'll have an opportunity to speak with your consultant about your overall situation and how the result makes you feel.  She'll be equipped to offer accurate information on all of your options and resources while lending a listening ear.  At Avenue, we're passionate about creating a safe, relaxing environment.  If you wish, we'd love to continue communicating after your appointment and become a part of your personal support system.
If you're walking through a season of unexpected pregnancy, you may be eligible for additional free and confidential services through Avenue, such as a limited medical ultrasound.  We've got your back, no matter your pregnancy test result or (if you are pregnant) which option you're leaning toward.
Check out our "About Us" page to learn more about Avenue Women's Center!
_______________
Reference:
Mayo Clinic.  (2021, December).  Symptoms of pregnancy: What happens first.  Retrieved from: https://www.mayoclinic.org/healthy-lifestyle/getting-pregnant/in-depth/symptoms-of-pregnancy/art-20043853
The information provided here is general in nature.  It is not a substitute for a consultation with a medical professional. Before any medical procedure, it is imperative that you discuss your personal medical history, risks, and concerns with your doctor. If you have questions during or after a procedure, your doctor should be immediately contacted. Avenue Women's Center is not an emergency center.  If you are experiencing severe symptoms, such as bleeding and/or pain, seek immediate medical attention.  Contact your physician, go to an emergency room, or call 911.