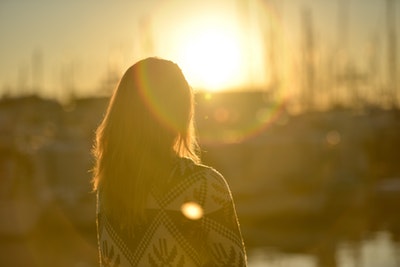 Just the mention of abortion can raise a variety of different opinions and viewpoints. It's not usually something that gets brought up in conversations with friends or family. And this can make it difficult for a woman considering abortion to speak openly about her thoughts and feelings. Where can you turn when you feel like you can't talk to anyone about abortion?
Take the next steps of your pregnancy decision at Avenue Women's Center. We've come alongside women facing unexpected pregnancies for nearly 40 years. We offer nonjudgmental and compassionate support as you think through your options. Meet with our expert client advocates, who will take the time to listen and address your unique concerns and questions during a free options consultation. Learn accurate and reliable information about your pregnancy options, including abortion. Contact us today for your free appointment at one of our five DuPage County locations!
"I Can't Talk to Anyone About Abortion!"
Abortion can be difficult for many women to consider. Even when an abortion seems like your best option, you may still have lingering doubts and hesitations. Maybe you have a difficult relationship with your partner, you feel too young to be pregnant, your health is a concern, finances are tight, you have future goals in the works, or it's just not the right time to become a parent. You might have several different reasons flooding through your mind. Overwhelmed might be an understatement of how you're feeling as you consider an abortion. Your thoughts flip back and forth between your options of parenting, adoption, and abortion. You desperately want to make sense of it all and take the next steps of your decision. But every time you even think about bringing up abortion, a lump in your throat stops the words from spilling out. And that lump is filled with fear, anxiety, panic, confusion, and stress.
You want to reach out and speak up, but you don't think you can talk to anyone about abortion. You may feel like your friends or family won't understand your feelings or concerns. And likewise with your partner. You might feel like you already know what their reactions might be, and you're scared to face their responses. You could be worried that they'll try to influence your decision with their own thoughts instead of helping you weigh your options objectively. Whatever the case, you feel alone in your consideration of abortion—but you don't have to be …
Talk to Someone, but Not Just Anyone
When you're unexpectedly pregnant, your decision lingers and hangs in nearly every thought and every moment. It's easy to feel like you could suddenly blurt out everything you're going through onto the next friend or family member you see. While it's important to address your thoughts and feelings, it's just as vital to do so with someone you trust to really be there for you in a time of need. Someone who cares for you, and who will try to understand the challenges you're facing in a decision about abortion. Even if their views are different from yours, you deserve a compassionate listener during a difficult and big decision.
Sometimes this person could be someone you least expect. If you're young, a parent or loved one might be rattled by your pregnancy news. However, often they ultimately just want what's best for you, and care about your well-being. A close friend may not be able to personally relate to your situation, but could still offer you support and comfort as you think through your options. But if you don't feel ready or able to confide in a friend, a family member, or your partner, you could feel incredibly isolated in a decision about abortion. In this case, make sure you find a nonjudgmental and caring source of support to help you move forward in your pregnancy decision.
If you feel like you have no one to talk to about a possible abortion, let Avenue Women's Center be a source of nonjudgmental and understanding support. We care about providing women with a secure, confidential, and private space to talk openly about their unique pregnancy decision concerns. Your health, safety, and future are important to us as we provide you with accurate information about all of your pregnancy options, including abortion. Our goal is to meet your personal and individual needs so that you can make an informed decision you feel good about. Call, text, chat, or email us today for your free appointment at a nearby center!
The information provided here is general in nature.  It is not a substitute for a consultation with a medical professional. Before any medical procedure, it is imperative that you discuss your personal medical history, risks, and concerns with your doctor. If you have questions during or after a procedure, your doctor should be immediately contacted. Avenue Women's Center is not an emergency center.  If you are experiencing severe symptoms, such as bleeding and/or pain, seek immediate medical attention.  Contact your physician, go to an emergency room, or call 911.