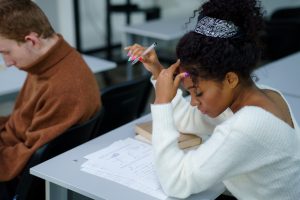 When faced with news of an unexpected pregnancy, a woman may experience shock. This may be followed by the realization of how the pregnancy could impact her family.  Perhaps this woman is already a proud mom.  She's invested in the lives of her kids and had planned to commit her full attention to their growth and well-being.  Maybe she didn't want to face another pregnancy.  She feels complete, satisfied, and busy as it is.  Does this describe you?  If so, you may have complicated feelings about your unexpected pregnancy.  You may be asking yourself questions like, "Should I tell my children?" "What would I say?" "How might they react?"  Understandably, you may want to avoid this conversation, especially if you're still making a pregnancy decision.
At Avenue Women's Center, we understand the unique challenges of each person's pregnancy story.  We've been helping women navigate pregnancy decisions since 1981.  Our caring staff is here to provide first-step services, so you feel equipped to make an informed decision that is best for your future and your family's.
Check us out and learn what we're about!
Finding Someone to Confide In
If you're not feeling ready to have a conversation with your kids, it can be helpful to speak with a trusted adult.  No woman should have to cope with an unexpected pregnancy alone.  It's appropriate to confide in someone dependable who does not have a strong emotional stake in the situation.  Consider opening up to a compassionate medical professional, counselor, faith leader, or pregnancy consultant.  This individual may provide much-needed support and assist you in developing a plan for disclosing the news to your kids, if you choose to do so.
Having the Talk with Your Kids
When it comes to telling your kids about an unexpected pregnancy, there are many factors to consider.  Your partner in the pregnancy may or may not be your kids' father, and he may or may not be involved in their lives.  Maybe you're leaning toward parenting, but you're afraid your kids will feel overlooked if you choose to continue the pregnancy.  If you decide to share the news with your kids, it can be helpful to address these concerns in an age-appropriate manner and present an opportunity for them to process their feelings.  Reassure them that your love is unwavering no matter what.  This will go a long way, even (perhaps especially) with teens who seemingly want nothing to do with you.  Don't ignore the elephant in the room; if you choose to parent, this will almost certainly cause a shift in family dynamics and responsibilities.  Abortion or adoption are not without potential effects to your family as well.  However, having an honest, respectful, age-appropriate dialogue will allow your kids to feel heard and help your family prepare for any outcome.
Practicing Patience as Your Kids Process the News
One woman's hesitations about sharing her pregnancy news may differ from another's, based on the ages of her children.  If your kids are older, their reactions may be more complex due to their ability to reason and express emotions.  Anger, excitement, confusion, happiness, and disappointment are all possible responses, no matter your kids' ages.  That's okay!  They may need time and space to wrap their minds around this new information.  Remember that feelings are adaptable, and so are your kids.  Consider their strength and resiliency.  Perhaps they've surprised you in the past through other challenges your family has faced.  The best thing you can do is remain attentive to their feelings and love them tangibly in the days and weeks ahead.
If You're Undecided
If you're unsure whether to choose abortion, adoption, or parenting, you may feel particularly unprepared to reveal your pregnancy to your kids.  You may worry that their responses could influence your pregnancy decision, or that their opinions might not match yours.  This could be one of those times when it is especially important to seek support from someone mature and trustworthy.  Only you can choose your best way forward, both in making a pregnancy decision and choosing who to include in your pregnancy journey before and after a decision.  If you surround yourself with support and learn what resources are available, you'll likely feel better equipped to take your next steps.
Our professional services at Avenue Women's Center include medical-grade pregnancy tests, limited medical ultrasounds, and pregnancy consultations.  During these consultations, our dedicated team members may provide information on the options and resources available, and offer support as you process the unique challenges you're facing. 
Call, chat, email, or text to schedule an appointment at one of our six locations in DuPage County, IL!
The information provided here is general in nature.  It is not a substitute for a consultation with a medical professional. Before any medical procedure, it is imperative that you discuss your personal medical history, risks, and concerns with your doctor. If you have questions during or after a procedure, your doctor should be immediately contacted. Avenue Women's Center is not an emergency center.  If you are experiencing severe symptoms, such as bleeding and/or pain, seek immediate medical attention.  Contact your physician, go to an emergency room, or call 911.