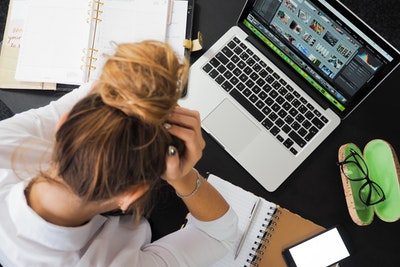 When comparing yourself to others around you, it can be easy to feel like you're already "failing at life." Adding an unexpected pregnancy into the mix may only seem to amplify that feeling. You may fear disappointment or judgment from your loved ones and friends. You had plans for the future, but now you aren't so sure about them, or what you're going to do about your pregnancy. How do you move forward when you feel like you're failing at life already with an unexpected pregnancy?
Find help moving forward in an unexpected pregnancy decision at Avenue Women's Center. We've supported women in the Chicagoland area for nearly 40 years with free services such as medical-grade tests and pregnancy consultations. Learn more about the options of abortion, adoption, and parenting from nonjudgmental and compassionate experts who care about helping you take your next steps. Contact us today to set up your appointment!
What Is a Failure … Really?
I have a magnet stuck smack dab in the middle of my refrigerator with a great quote from Esther Dyson, "Always make new mistakes." At first, I puzzled over this gift from a friend, wondering what it really meant. My eyes had glazed over the words and missed the most important part of the message: NEW mistakes. It began to change how I viewed failure. Failing became an opportunity, a chance at personal growth, and something that's just part of life—everyone's life. We just experience it in different ways each time.
We all fail at things, we all make mistakes. The important part is that we learn from these mistakes and try not to repeat them. Yet, sometimes it takes more than one lesson for a message to hit home. But there are no second chances when you become unexpectedly pregnant. You can't go back in time and undo what led to your pregnancy. However, you can take steps to positively move forward in your decision.
Moving Forward When You Feel Like You're Failing
A great piece of advice from Psychology Today when you feel like you're failing is to "focus on valuing who you are, not what you do." It's all in how you handle things in life, especially the unexpected things and the challenges they bring. You get up back up when you fall down. You move forward when things get tough and find a way through it. But what can you do to specifically move forward in an unexpected pregnancy decision?
Find out more about your pregnancy. Have you confirmed your pregnancy with a test yet? Do you know how far along you might be, or the gestation age of your pregnancy? Why does it matter when it comes to your options? Learning more about your pregnancy is an important first step to moving forward in your decision and understanding the options that might be available to you.
Get informed about your options. What are the different procedures, risks, and side effects involved with an abortion? What are the adoption plan options in your state? What assistance, resources, and support systems might be available in your area if you choose to parent? What other information about your options might be helpful to know as you make a pregnancy decision?
Weigh your thoughts and emotions. As you think through abortion, adoption, or parenting, what are the feelings that come with each option? What concerns you most? Is the feeling of failure creeping its way into your decision? When you take failure out of the equation, how does that impact your options? You may have mixed emotions as you process through your pregnancy decision. You might also feel strongly about one option over others, but not sure how your emotions could change in the future. Take time as you decide to fully evaluate your thoughts and emotions.
If you feel like you're failing in a pregnancy decision, Avenue Women's Center is here to help in your next steps. We offer each woman a safe, caring, and supportive space to process through a pregnancy decision. Every unexpected pregnancy situation is unique, and every woman experiences different thoughts and feelings in their decision. Meet with our expert client advocates trained to meet your needs and address your personal concerns about each of your pregnancy options. Move forward in your pregnancy decision with nonjudgmental, accurate, and reliable information about abortion, adoption, and parenting. We care about helping you make an informed decision you can feel confident in. Reach out to us today and set up your free options consultation!
---
Reference:
Psychology Today. Becker-Phelps, Leslie. (2016, November).What to Do When you Feel Like a Failure. Retrieved from: https://www.psychologytoday.com/us/blog/making-change/201611/what-do-when-you-feel-failure.
The information provided here is general in nature.  It is not a substitute for a consultation with a medical professional. Before any medical procedure, it is imperative that you discuss your personal medical history, risks, and concerns with your doctor. If you have questions during or after a procedure, your doctor should be immediately contacted. Avenue Women's Center is not an emergency center.  If you are experiencing severe symptoms, such as bleeding and/or pain, seek immediate medical attention.  Contact your physician, go to an emergency room, or call 911.